England make history with five wicket win in first ever Commonwealth Games T20
England women started their campaign in Birmingham in style, comfortably chasing down 107 to beat Sri Lanka with 17 balls remaining.
Katherine Brunt took a wicket with England's first ball of the Games on her 100th IT20 appearance and Sri Lanka's struggles didn't show signs of easing.
Birmingham local Issy Wong took two wickets, as did 17-year-old Freya Kemp, while left-arm spinner Sophie Ecclestone took 3-25.
In response, teenager Alice Capsey made 44, departing right at the death before England crossed the finish line with time to spare.
20-year-old Wong, who grew up in Solihull, was in for a surprise at the opening ceremony.
She recalled: "A lot of us hadn't processed that this is the Commonwealth Games.
"Walking into the Alexander Stadium and there's 30,000 brummies cheering and 'We Will Rock You' is playing, I remember thinking, 'Oh my goodness, this is amazing.
"Sophie Ecclestone came round and said this is going to be one of the best nights of your life, make sure you enjoy it. We're part of something bigger and we really feel that."
Wong also had a word for 17-year-old Capsey who impressed on her Commonwealth debut.
She said: "It was pretty level-headed from Alice. She's a really good girl and she's incredibly talented.
"I've played with her for three or four years now, we shared a room on an academy tour to India in 2019 and spent quite a bit of time with each other.
"I think we're all just absolutely made up for her. I think she was born to be on the big stage to be honest. She's that kind of character. Nothing fazes her.
"I think she took a ball to the face in the warm-up and she still went out and played a match winning knock."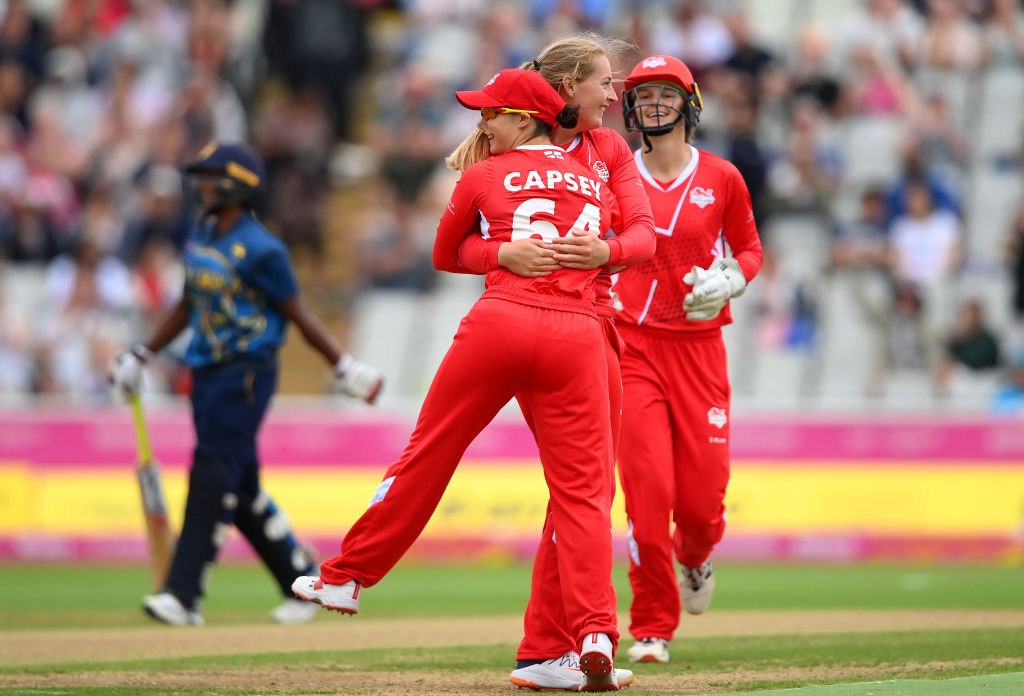 England's netballers maintain 100% record with win over Malawi
England made it two from two to continue a great start to their title defence with a 66-41 win over Malawi.
The Commonwealth champions eased past the same opponent in their second match four years ago on the Gold Coast and kept The Queens at arm's length once again.
Eleanor Cardwell shone on her Commonwealth debut, making a strong case for the starting bib ahead of tougher tests in Pool B including a crunch clash against number two seed New Zealand.
England's most capped player of all time Jade Clarke was satisfied with the team's performance.
"I think we are definitely building. We knew Malawi was going to be a really tough game, they've got world class players like Joyce Mvula.
"We played them a couple of weeks ago in South Africa, so we've made some improvements since then.
"It's a long journey, day two and we are pleased with the progress and pleased we've had some real good challenges."
Williams and Wilkinson through to boxing quarter-finals
Lewis Williams saw off Pakistan's Nazeer Ullah Khan by a unanimous points decision in the heavyweight class to set up a bout with Papua New Guinea's Arthur Lavalou.
The Leamington local has been drinking in the atmosphere in a super-charged Birmingham.
He said: "In the local parks they have got screens with people watching. Everybody is supporting, everybody is watching, my phone is blowing up with people sending messages supporting me.
"It's just a bonus, isn't it? I'm just feeling a push, it's not pressure, it's just motivation."
And earlier Jodie Wilkinson rallied to beat Nigeria's Bolanle Temitope Shogbamu by split decision (4-1) in the women's light middleweight round of 16 and said she's got more to give in the last eight.
"I'm not happy but I got the win so I should be happy in some sense. I only gave 30 or 40 percent of the real Jodie out there today.
"I always believe the hardest fight is the first fight in any competition, so I've got that out of the way and now I'm going for gold but there's more of the real Jodie to witness in there."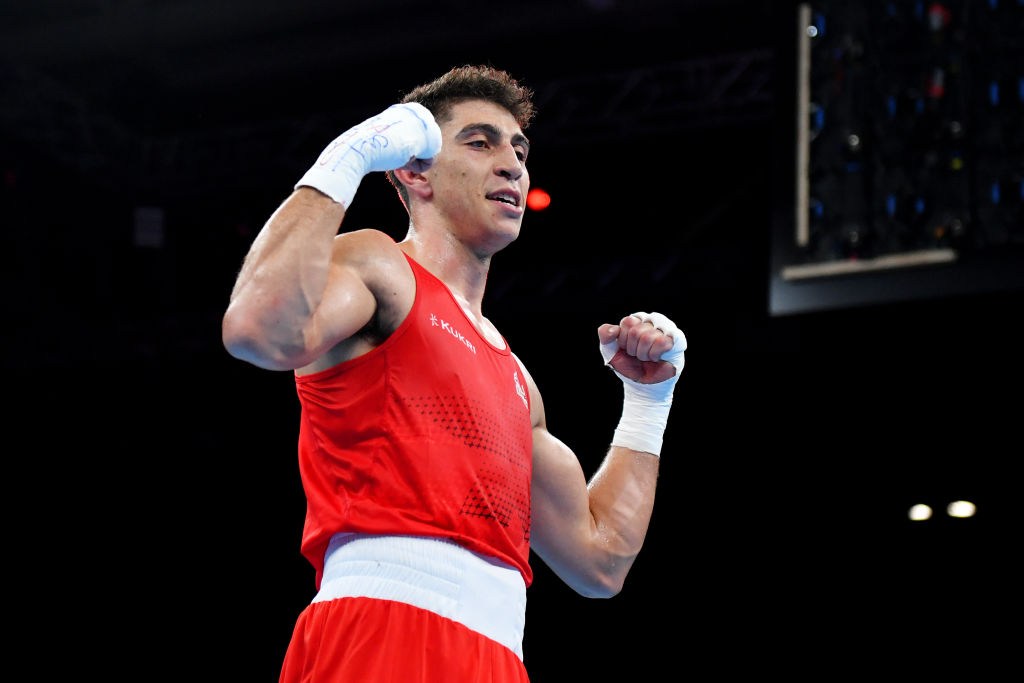 Bello brothers brush aside Tuvalu
The Team England beach volleyball pair Javier and Joaquin Bello secured a comfortable 2-0 (21-10, 21-12) win over island nation Tuvalu in Pool C at Smithfield.
The Madrid-born twins have sterner challenges to follow with Cyprus coming up next on Monday and New Zealand on Wednesday, something which Joaquin acknowledged.
He said: "We didn't really know them very well because they don't play on the World Tour. We tried to push ourselves a bit too much and made a few mistakes but it was all about building for the next games.
"We know we've got tougher games to come against Cyprus and New Zealand and we'll need to be a bit better than that. We wanted to win, get a rhythm and get used to the conditions and stadium."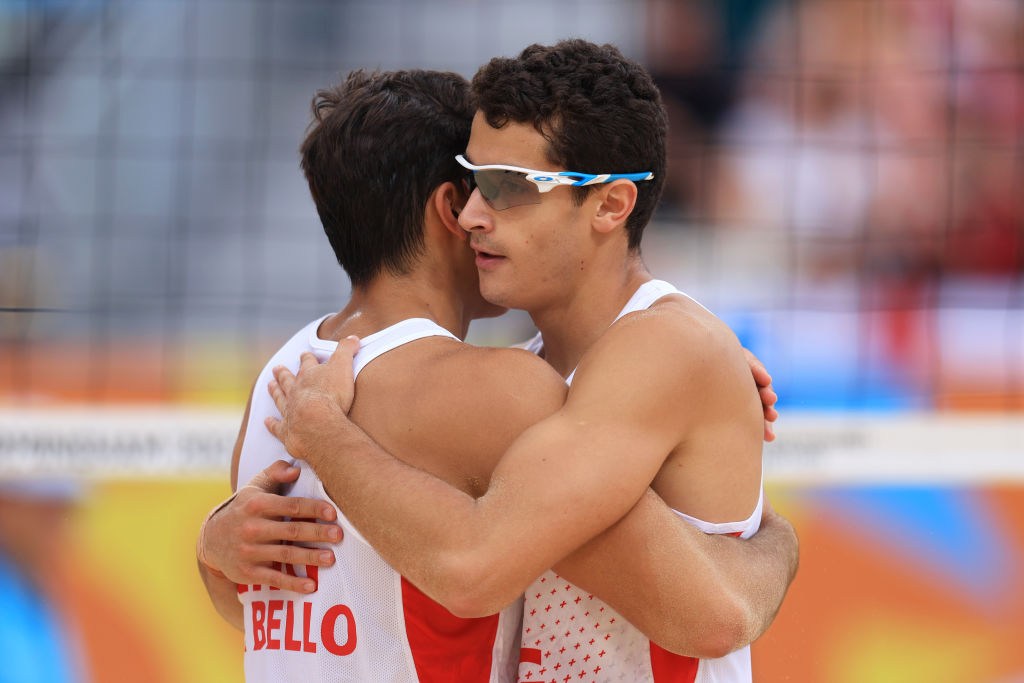 Men's triples and b6-b8 pairs qualify for lawn bowls knockouts while Pharaoh bows out

Louis Ridout, Nick Brett and Jamie Chestney made it three from three in the group stages, as they beat Canada 36-8.
The comfortable victory followed on from wins over Malaysia and South Africa and they will take on Jersey in the last eight on Sunday at 3pm.
Chestney did not hold back on the team's aspirations, saying: "That's what we're here for – we want to win gold. We've not made any bones about that, that's the target.
"It's going to be incredibly difficult but our target is to go for gold. We're one step further, three hard steps to go."
Para bowlers Craig Bowler and Kieran Rollings secured semi-final berths today with wins over Australia (13-12) and Wales (12-11).
They lost their first match against Scotland on Friday but have since secured themselves a new lucky mascot ahead of their final Section A game against New Zealand on Sunday.
Rollings explained: "I first met Denise Lewis at the Team England president's dinner at Birmingham Regis hotel and we got to know each other. She messaged after the first game and said 'hard luck, keep your chins up for the next game' and she turned up in the stands on Friday.
"I hope she's a lucky charm for us. We've got to go out there and win the next game tomorrow to secure that top position."
The women's b6-b8 pairs also breezed past Scotland 19-7, and the men's pairs capped a successful day with a 20-7 Round 4 win over the Cook Islands having dispatched the Falklands 47-5 earlier in the day.
The women's fours made no mistake to beat the Cook Islands 19-7 to top their section and reach the knockout rounds.
Elsewhere, Amy Pharaoh narrowly lost 21-18 to New Zealand's Katelyn Inch which saw her exit the women's singles before the knockout rounds.
She said: "I think the last shot will haunt me for a long time, I may not have won anyway but that last bowl will haunt me.
"I'm very disappointed but had some really good bowls out there, it was a really good game so I can take some positives and see how I get on tomorrow."
Pharaoh returns to action in the women's pairs on Tuesday.
England's women breeze past Ghana in first hockey match
Hoping to bring home their first Commonwealth gold after a run of three silvers and three bronzes, England made the perfect start to their campaign with a 12-0 win over Ghana.
The Ghanaians were no match for the home side who face Canada on Sunday before clashes against India and Wales round off Pool A next week.
Hannah Martin scored a hattrick and Flora Peel made her Commonwealth debut after a broken thumb ruled her out of the World Cup earlier this month.
Peel said: "I was in a cast for a few weeks but have been out for a week now so it's just about getting it moving again. It wasn't anything crazy, just really unfortunate.
"It's great to be here. I'm an old Birmingham [University] girl so being back on this pitch is just incredible. With the crowd, it's such a great environment to be in.
"The word we keep using is disciplined. It wasn't an easy game, they are a difficult team to play as we didn't know what to expect. We're really happy with how we've started and now it's on to Canada tomorrow."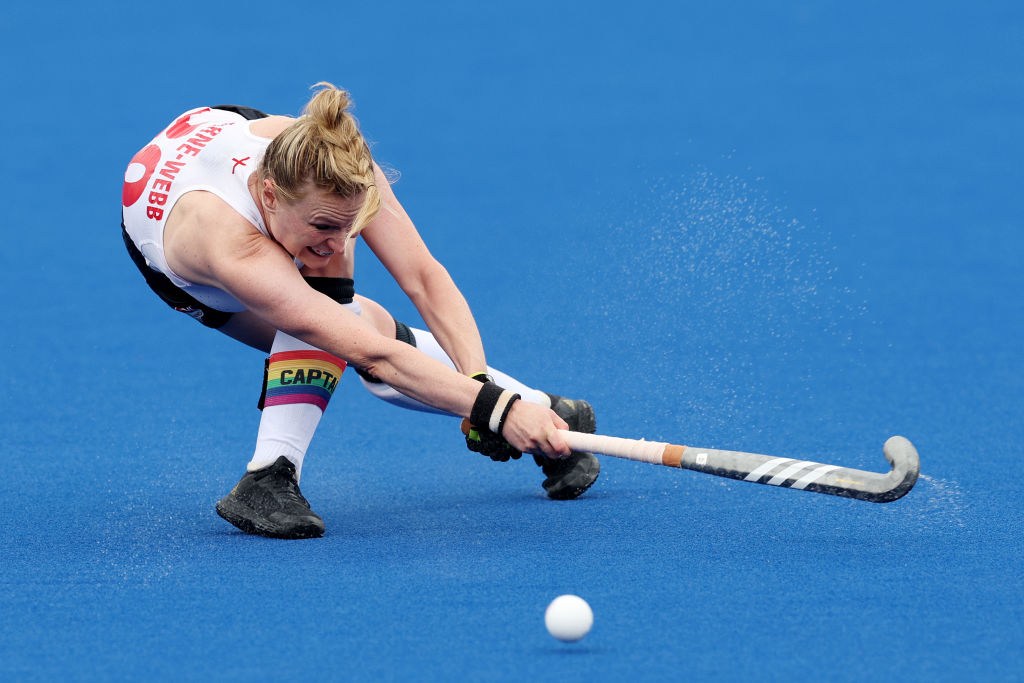 Mixed badminton team advance to quarter-finals

Despite a 4-1 loss to Singapore in their final Group B match at the National Exhibition Centre, the mixed team are through to the knockout stages which begin tomorrow.
Thanks to two 5-0 wins over Mauritius and Barbados qualification was already secured, with only top spot up for grabs.
Experienced shuttler Marcus Ellis admitted it was a sharp wake up call.
He said: "It's been a harsh reality check for us. We had a great day yesterday, spirits were really high. We knew this was going to be the crunch match.
"I'm personally very disappointed with myself today. But even though Toby [Penty] lost I think he put in a great personal performance and I think that's something that we have to applaud.

"It'll be a harder quarter-final but we're ready and I'm sure we'll raise our game tomorrow."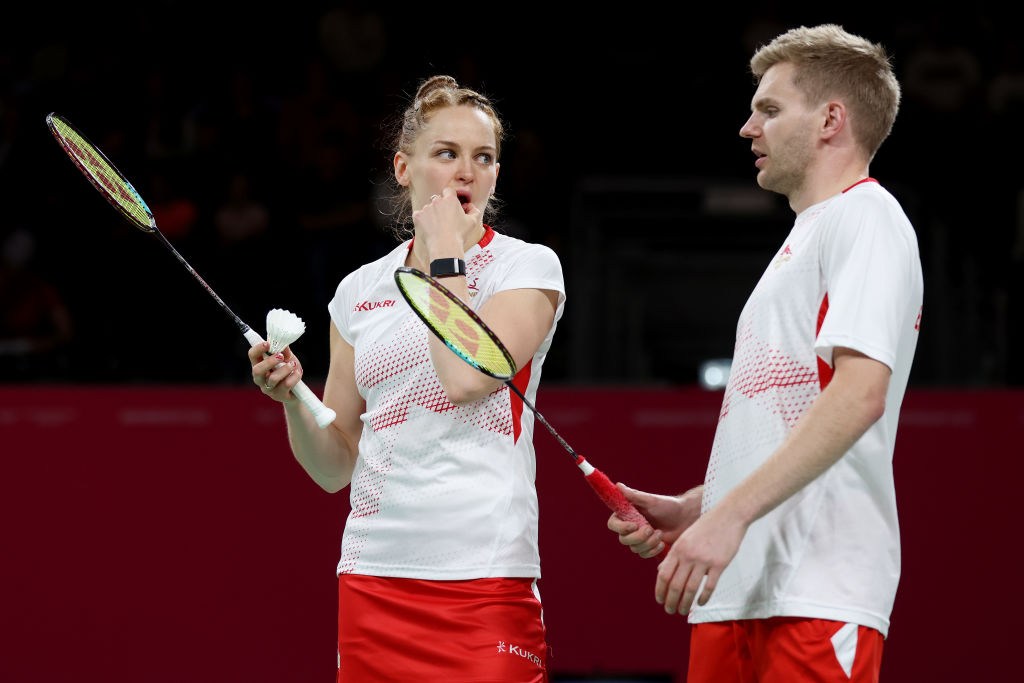 Rugby Sevens: Women through to fifth-place playoff and mixed bag for men

A defeat by New Zealand started off the day for both teams, meaning the women would have to settle for a 5-8 semi-final against South Africa.
The Red Roses passed the test with flying colours (36-0), registering six tries without reply and setting up a fifth-place playoff against Scotland on Sunday.
Merryn Doidge said: "It was good to get back to winning ways but there's certainly a lot to fix up in the next few weeks, we want to keep improving every day."
Meanwhile, a 20-0 New Zealand loss for the men meant an evening quarter-final to continue the fight for ninth-place.
Jamaica were dispatched 45-7 and Tom Bowen was pleased with the emphatic response.
He said: "We're really happy about the bounce back and then we've got to get dressed up and go again now. It's one thing to lead your country out in a home Games but to get a good win is great.
"You definitely remember those ones. It was pretty special. I don't think the score against New Zealand represented how we played, we definitely fronted up and played better."
Charlie Tanfield and Sophie Capewell narrowly miss out on medals at London's velodrome

Defending champion Charlie Tanfield fell narrowly short of staying on the individual pursuit podium as he finished fourth at London's velodrome.
Returning from team pursuit silver on opening night, Tanfield squeaked into the medal finals by a margin of 0.8 seconds after a qualifying ride of 4:09.776.
The 25-year-old led through the first 1000m of the bronze medal run-off but faded and was pipped to the podium by Conor Leahy of Australia.
Sophie Capewell finished fourth in the women's sprint, narrowly beaten to bronze by Wales's Emma Finucane.
Hamish Turnbull took ninth place in a men's keirin competition that saw Joe Truman involved in a heavy second-round crash, from which he has recovered.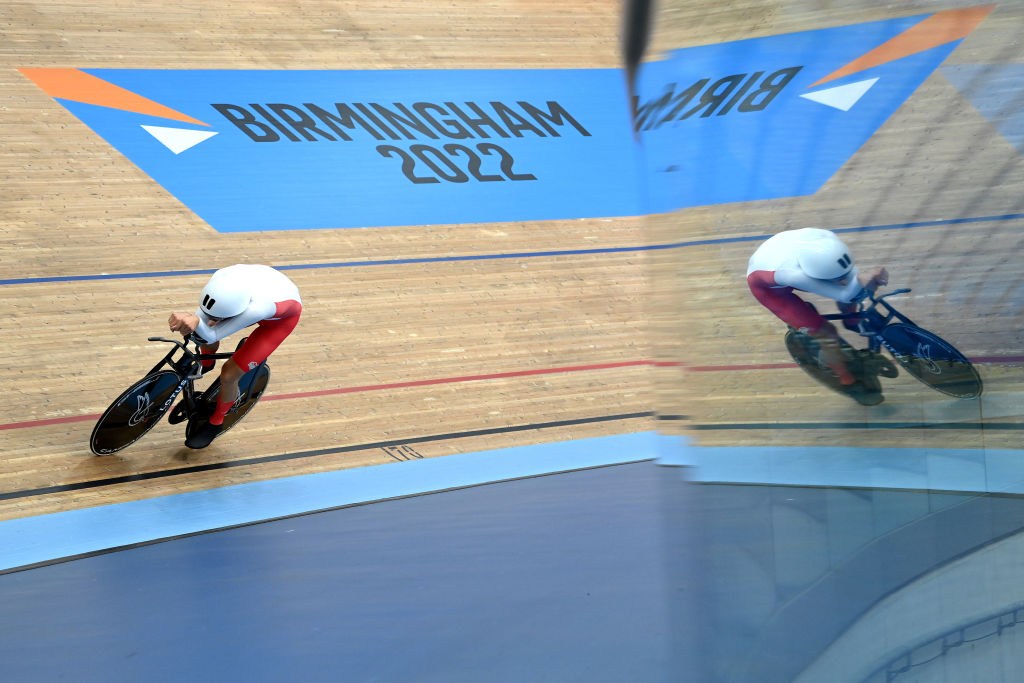 A clean sweep for England's squash players
All six England squash stars advanced to the Round of 16 without a single game being dropped today.
Lucy Turmel and Adrian Waller booked their Round of 16 spot at lunchtime, while later Patrick Rooney, James Willstrop, Gina Kennedy and Sarah-Jane Perry got their campaigns off to a flying start with 3-0 wins across the board.
James Willstrop will play his 200th match for his country against Nasir Iqbal on Sunday and was overjoyed with the packed crowd inside the NEC.
He said: "The atmosphere was the thing that won't leave my memory very quickly. Walking on into a buzz like that is part of why we do it, why we've been training so hard to get to the Commonwealth Games. It's why I wanted to play a fifth one. You don't get that anywhere else really."