Skegness' Tom Jarvis has become the latest athlete to join the Sir John Hanson Young Talent scholarship – a programme devised to help young hopeful Team England athletes in their development towards Birmingham 2022.
Jarvis, England's highest ranked u21 table tennis player, joins Abi Burton, Kieran Rollings, Lucy Turmel and Kelly Peterson-Pollard on the prestigious programme.
Each athlete has been selected to receive funding as part of their journey towards the next home Commonwealth Games in two years.
For the 20-year-old, it's an honour.
"The Sir John Hanson scholarship is a really exclusive programme, so I'm honoured that my hard work and potential has been noticed. It's a really exciting project to be part of and I'm looking forward to receiving all of the support that comes with it."
Lincolnshire-born Jarvis started playing table tennis through his brother and hasn't looked back.
"I loved playing all sports but mostly just followed my big brother around, so when he took up table tennis I did so too. I was quite good, and it went from there!
"I won nationals when I was 11 but it wasn't until I was about 13 that I realised I was good enough to compete as a career. I have always loved the sport so deciding I wanted to do it as a career was an easy choice.
"I grew up watching the likes of Paul Drinkall and Liam Pitchford - they were two of the first people I went to see live and who really inspired me to play. I've been in the team with them for about four years now and at the start I was quite starstruck but now we're a big group of friends."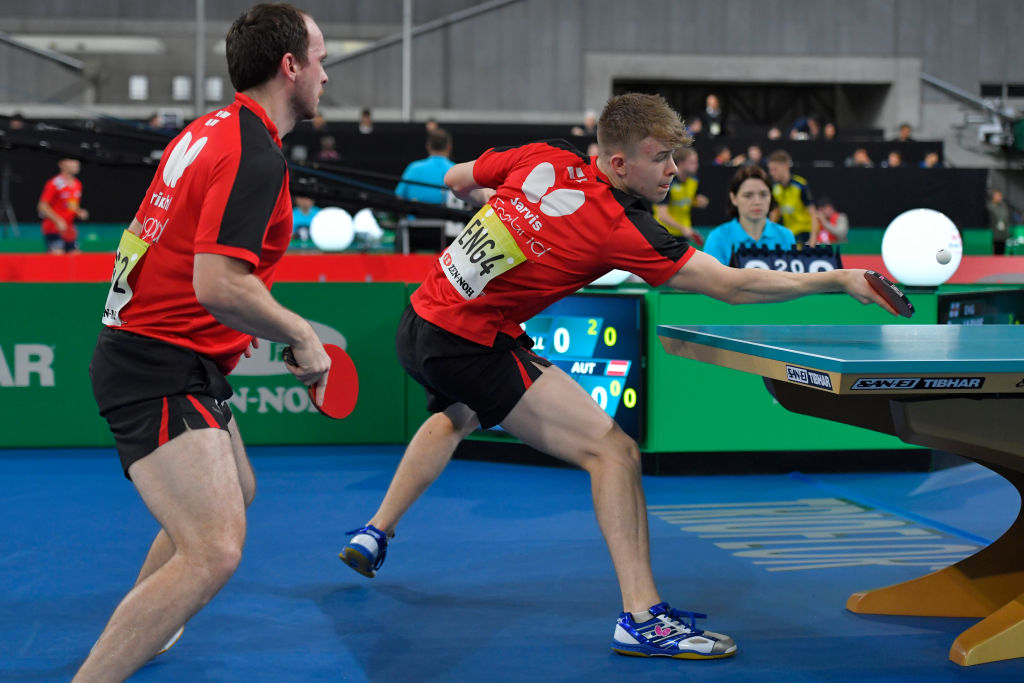 Jarvis is thrilled to be back in training, having had no access to a table whilst in lockdown. He trained in Sweden for four years and has recently moved to Germany, so the return to his family home in Skegness was welcomed by the youngster.
"I've not really been home since I was sixteen, so the lockdown meant I got to spend some real time with my family which was great.
"I didn't have access to a table, nor anyone to really play with, so it really was a proper break for me. I'm lucky that I had a small gym at my parent's house, so I was able to keep active.
"I'm really excited to be back training and things are kicking off which is good. It's been intense – we've had 10-hour training days so it's very tiring but it's all good fun and hopefully it'll pay off when I'm competing in Birmingham in 2022."
The ambitious youngster, who was a reserve for the Olympics in Rio (2016), is setting his sights on gold in Birmingham.
"It's always special playing on home soil and with the Commonwealth Games being such a big tournament, it's going to be amazing. Everything I'm doing now is to get ready for the Games. We've got a really good team and I'm hoping we'll be in a strong position to take gold.
"It's the biggest honour you can have playing in front of a home crowd. It'll be exciting, some nerves and it's all in the preparation. It'll be an amazing feeling… as long as I'm winning!"
Tom Jarvis joins Team England's Sir John Hanson Young Talent Scholarship as a replacement to Abazz Shayaam-Smith, who has recently changed events and no longer meets the eligibility criteria.
Jarvis will receive £7,000 worth of funding to support him in achieving his sporting goals.
To keep up to date with all the Team England athletes in the lead up to Birmingham 2022 follow Team England on Facebook, Twitter and Instagram.