A Commonwealth Games is tasked with delivering iconic moments, historic achievements and awe-inspiring performances - and Birmingham 2022 has delivered all three by the bucket full.
And for the athletes who are at the centre of it all, their successes can leave them speechless, stunned or overcome with emotion, often all at the same time.
But when they can find the words to sum up what it all means, the results are always spectacular. So here is the story of the Birmingham Commonwealth Games, told by the protagonists themselves.
To say Laura Kenny had been through a traumatic year was an understatement.
After the five-time Olympic champion suffered a miscarriage, had an ectopic pregnancy and saw Madison partner Katie Archibald suffer injury woes, she admitted she arrived in Birmingham feeling lost.
But no one quite understood the toll these events had on the 30-year-old until she won her third Commonwealth medal - a storming gold in the scratch race - and revealed her emotions in the subsequent interview.
"You know when you get so much bad news that you feel a bit lost? I would say since everything that's happened to me personally, I've felt lost. I just felt like I had nothing," she revealed.
"Everything that I thought I was working towards had been ripped away. Honestly, I can't even tell you how I felt last night. I just lay there with my mum and I thought I just don't know what to do, I don't know whether I can even put myself through this.
"To have to come through all of that and then to try and step up in front of a home crowd. In a way, I'm more proud of that than many of the other Olympic medals that I've won."
The women's hockey team made history by becoming the first England side to win gold at a Commonwealth Games since the sport was introduced in 1998.
It was third time lucky for captain Hollie Pearne-Webb, who was desperate to complete her collection after scoring the decisive penalty to win Olympic gold in 2016.
"I'm so fortunate it's been within my career and my lifetime," said Pearne-Webb. "The support has been incredible.
"To achieve this later on in my career is really special. After a silver and a bronze in the Commonwealth Games, this is worth the wait."
Goalkeeper Maddie Hinch added: "Sport is a rollercoaster ride. This is an unbelievable high, there'll be many more highs and lows. You can't take these occasions lightly.
"I'm so glad we stayed in the moment, didn't get carried away and were able to bring these dreams to life."
But sometimes it doesn't take a medal to move an athlete, as para powerlifter Liam McGarry proved after he finished fifth in the men's heavyweight event.
"Today couldn't have meant more to me. I spent from the end of November until the end of April laid up in bed after having 14 surgeries.
"I've got my doctor, my physio, my coaches, my psychologist and they've pulled me through this year. Nothing would've meant more to me than just getting out on that platform.
"For a lot of the time this year, I never thought it'd happen. Honestly, this is the best day of my life and I think it'll be hard to top.
"For anyone out there who's struggling and going through hard times, there's better times ahead. I never would've thought this when I was 20 years old and had a spinal cord injury.
"I thought my life was over and I've just experienced the best day of my life."
And while Jack Laugher grabbed the headlines at the Sandwell Aquatics Centre with another hat-trick of medals, his 3m springboard synchro partner Anthony Harding produced one of the smiles of the Games after winning gold.
"I moved to Leeds when I was 10 and for 12 years now, I've copied everything he's done," said Harding. "It's like copying homework from the smart kid. I'm loving the opportunity.
"I've watched him [Laugher] at three other Commonwealths, three Olympics, and it has been a while for me to get on this kind of stage. It means the world."
Adam Peaty finally completed his medal collection when he won the 50m breaststroke title, but the Games were not plain sailing for the 27-year-old world beater.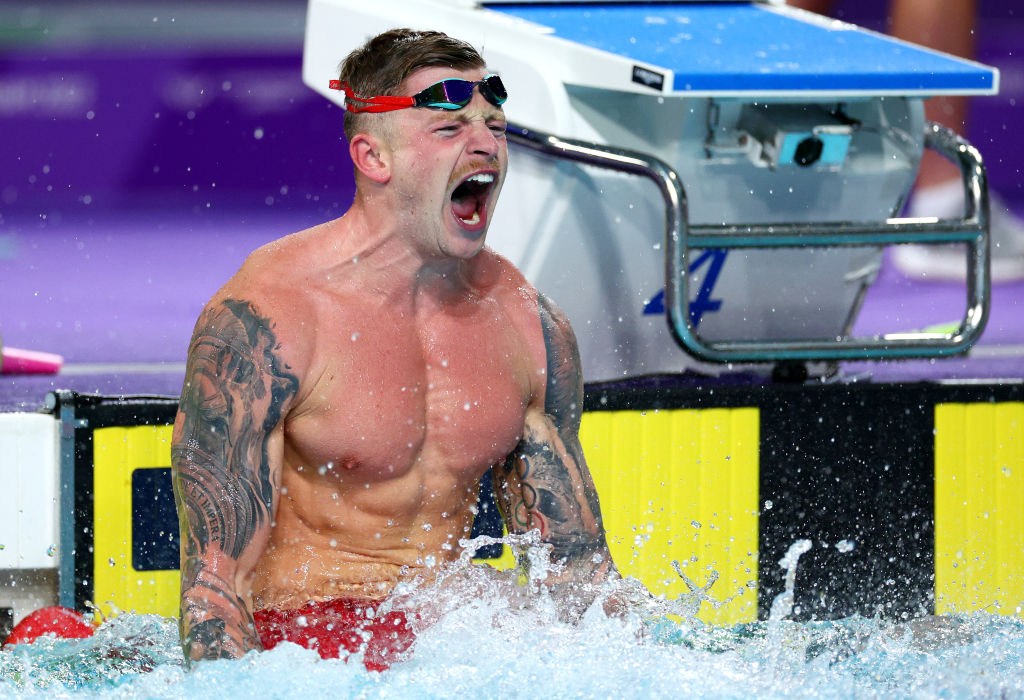 Recovering from a broken foot, he missed out on a 100m breaststroke medal before roaring back a day later to win 50m Commonwealth gold at last.

"I had two options this morning, fight or don't fight," said Peaty. "If anyone knows me, I fight. That means so much to be because of what I've been through the last few months, the last year, the last five years.
"I lost my spark at the start of the week but to have it back now, this is what it's about.
"It's the only one that I haven't won in my whole career. I knew this was going to be my last Commonwealth Games so today was the day to do it."
At Smithfield, the partying partisan crowd were treated to a week of electric beach volleyball, interspersed with rip-roaring dance breaks to banging club classics.
The public's hearts were captured by the story of the twin brothers born in Madrid, who made history by winning the very first beach volleyball medal for England.
Joaquin and Javier Bello hope this is just the start of England's love affair with a sport they picked up at age six.
"It felt like the whole country was behind us," said Javier.
"Every time we played a match, we went home, looked at our phones and there were lots of people sending us amazing messages of support. We saw all of that, we felt all of that, on the court and off the court at all times.
"We hope that's going to create a wave of change and growth in our sport, with more people playing, even recreationally on the beach."
"This is the beginning of beach volleyball in the UK," summed up Joaquin.
But in the netball, it was time to say goodbye to two Roses legends: Stacey Francis-Bayman and Eboni Usoro-Brown.
Goal Keeper Usoro-Brown made her international debut in 2008 and went on to medal at three World Cups and two Commonwealth Games, including a famous gold four years ago on the Gold Coast.
The NEC was packed to the rafters every time the Roses took to the court, and Usoro-Brown hopes those in attendance will take encouragement from her story.
"To finish off today hopefully inspiring others who want to consider motherhood and being an elite athlete, and having a career potentially, it is actually possible and especially in this red dress," said Usoro-Brown.
And for Francis-Bayman, finishing her journey on home soil at her third Commonwealth Games, 12 years after her first, represented the perfect farewell.
"I don't think it will sink in for a little while longer yet," said Francis-Bayman "But when I reflect back, I'll feel so privileged that we were able to be out on court in a home Commonwealth Games, wearing the red dress that we don't take for granted."
Jake Jarman took Birmingham 2022 by the horns with a record-breaking four gold medals and the 20-year-old has certainly come a long way since he was talent spotted in a Peterborough park swinging from the monkey bars.
Jarman's career was guided by his nan Sheila, who would take him to Huntingdon Gymnastics Club while his parents worked - and he dedicated his stunning success to her who was glued to the television screen all week.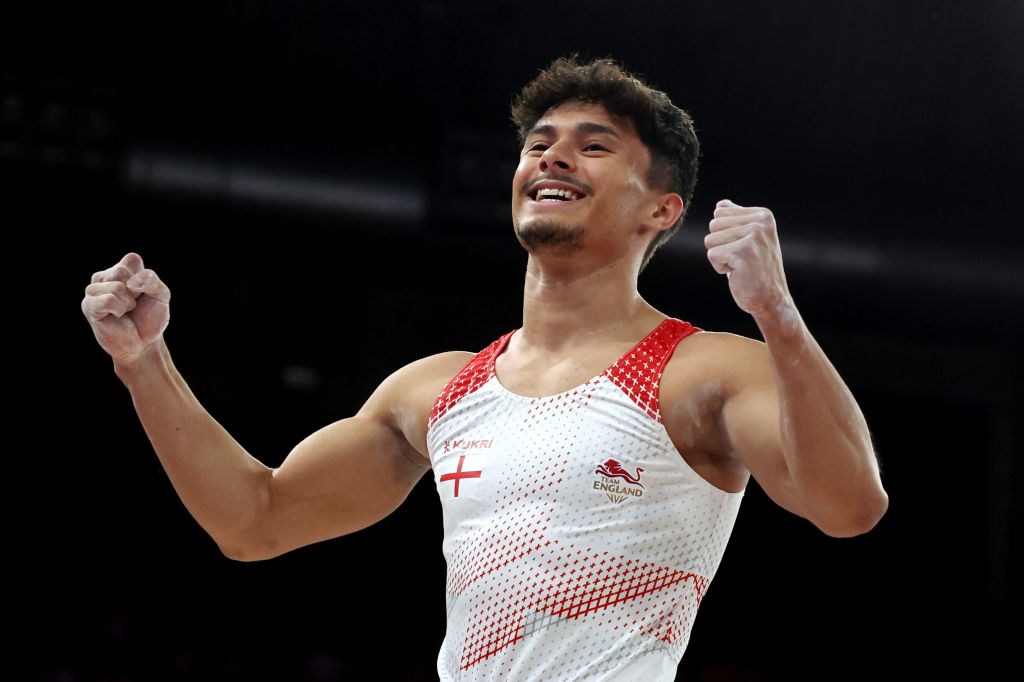 "My nan has always been there for me," said Jarman. "She'd be sitting on the balcony at Huntingdon for all those hours.

"When you are young you don't think about all the time people take out of you day but I'm at an age now where I appreciate it. I wouldn't be here without everything she did for me. She's watching back home on television and I hope she's enjoying it.
"I spoke to her on the phone the other day, she was over the moon with how I have done.
"I have never heard her so excited on the phone, I was struggling to make out some of her words. She said just to do what I normally do and have fun.
"She has always been a huge supporter, so I can't thank her enough."
And it was a fairytale ending for hometown boy Myles Hesson, sinking a clutch two-pointer in overtime to grab basketball glory for England in a 17-16 win over favourites Australia.
Afterwards he said: "It's incredible, I'm still trying to figure out the words to put it together. Never in my wildest dreams did I think I'd make the game-winning shot here in Birmingham for Commonwealth Games gold. It's almost a joke.
"I played basketball in every corner of this city, just around the corner is where I catch the bus to get into town, my grandparents brought me to the market over there. I am Birmingham, so this means so much.
"I'm going to carry this moment with me for the rest of my life now."
And finally, superheavyweight Delicious Orie cruised to his title by winning all of his bouts by unanimous points decision and now, the only way is up.
"The sky's the only limit," said Orie. "My inspiration has always been Anthony Joshua and that's the bare minimum. We're going to eclipse that but that's how it works in life. The next generation will exceed me.
"My mum and dad were here, and I think I cried a bit too much on my dad's shoulder, but here we are."