From Alex Yee storming to triathlon gold on the opening morning to James Willstrop and Declan James coming out on top in an all-English squash final 11 days later, the 2022 Commonwealth Games have been bookended by memorable moments for the home nation in Birmingham.
The passionate crowds have helped inspire a record-breaking haul of medals, with Team England's remarkable tally of 176 surpassing by two the total brought home from Glasgow in 2014.
From swimming to cycling and basketball to beach volleyball, here are 10 of the most memorable moments for Team England from the 2022 Commonwealth Games.
Yee and Taylor-Brown get the party started
The action began on July 29 and thanks to Alex Yee and Georgia Taylor-Brown, English fans weren't made to wait long for their first medal celebrations.
Yee produced a spectacular performance in the men's individual triathlon, edging out close friend and competitor Hayden Wilde to claim the gold in Sutton Park.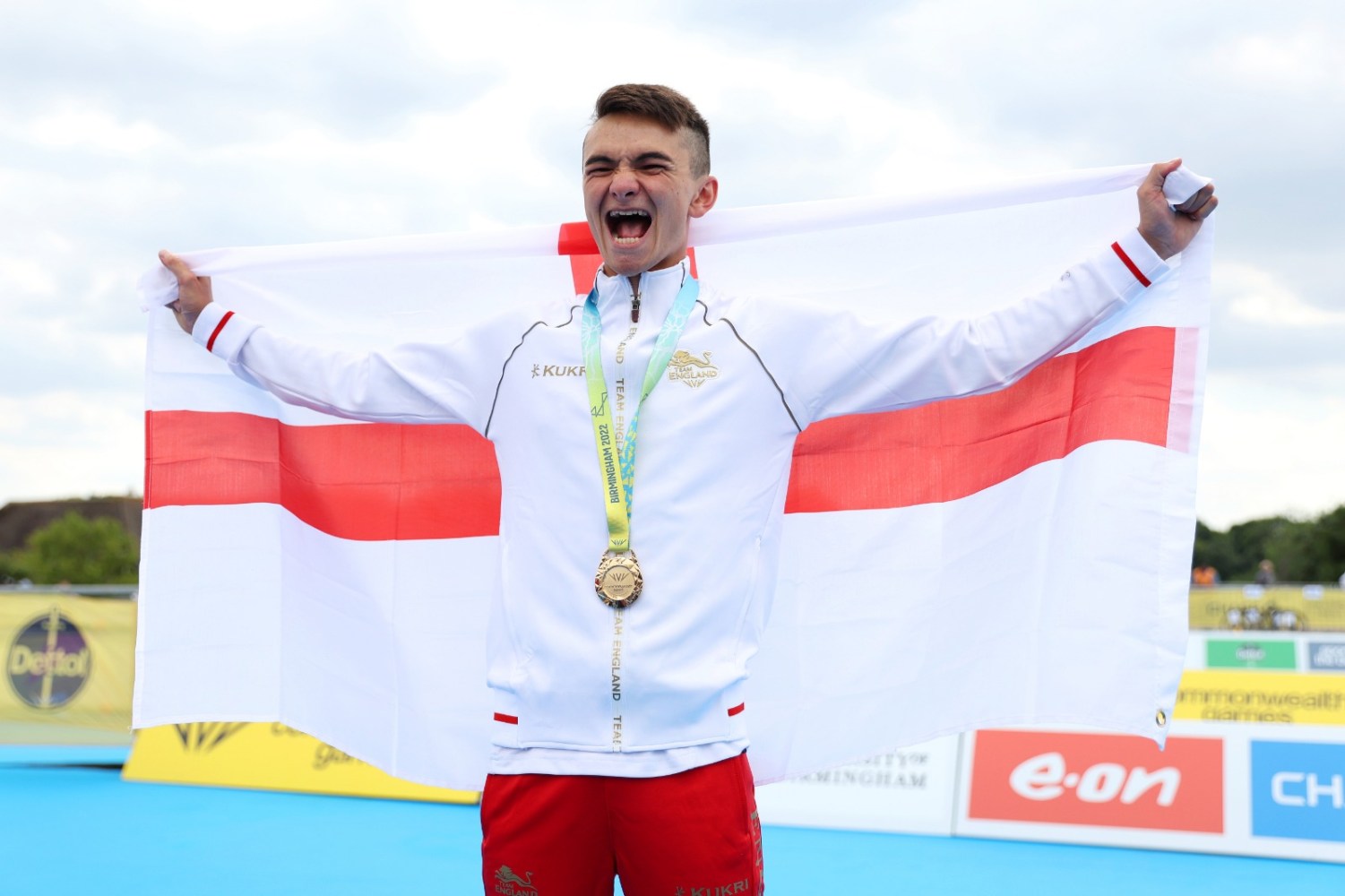 The New Zealander shared a hug with Yee at the finish line after Englishman had overtaken in the final stretch, Wilde suffering a 10-second penalty for failing to rack his bike properly.
Yee said: "I feel extremely grateful and proud to be a triathlete today. This is a home Games and the first time I have been able to race in front of my parents for a long time. This is probably I'd say my greatest achievement ever."
Taylor-Brown was next up in the women's race and was narrowly beaten by world-class Bermudan Flora Duffy, taking home the silver.
She said: "I gave it my best shot, I dug deep and I found a little bit extra to get me up the hills. Silver was all I could do today but I'm super happy with my first Commonwealth Games."
Jarman proves unstoppable force
It would be impossible to leave out Jake Jarman, after he became the most successful English male gymnast at a single Games, on his Commonwealth Games debut.
The 20-year-old topped the standings in vault, team, all-around and floor events in artistic gymnastics, winning four gold medals to break the record set by Max Whitlock in 2014.
Jarman said: "In all the competitions you go to, you can be under just as much pressure at a smaller competition than a competition this big. To be able to come here and enjoy everything and produce an amazing result, I'm absolutely honoured."
The breakout star will carry the flag for Team England in Monday's closing ceremony.
Hesson sinks fairytale winning shot
Jarman was far from the only history-maker in Birmingham, with Team England winning basketball 3x3 gold in the sport's first appearance at the Commonwealth Games.
Julius Joseph's side sealed the win in thrilling style, defeating Australia 17-16 in overtime thanks to Myles Hesson's winner.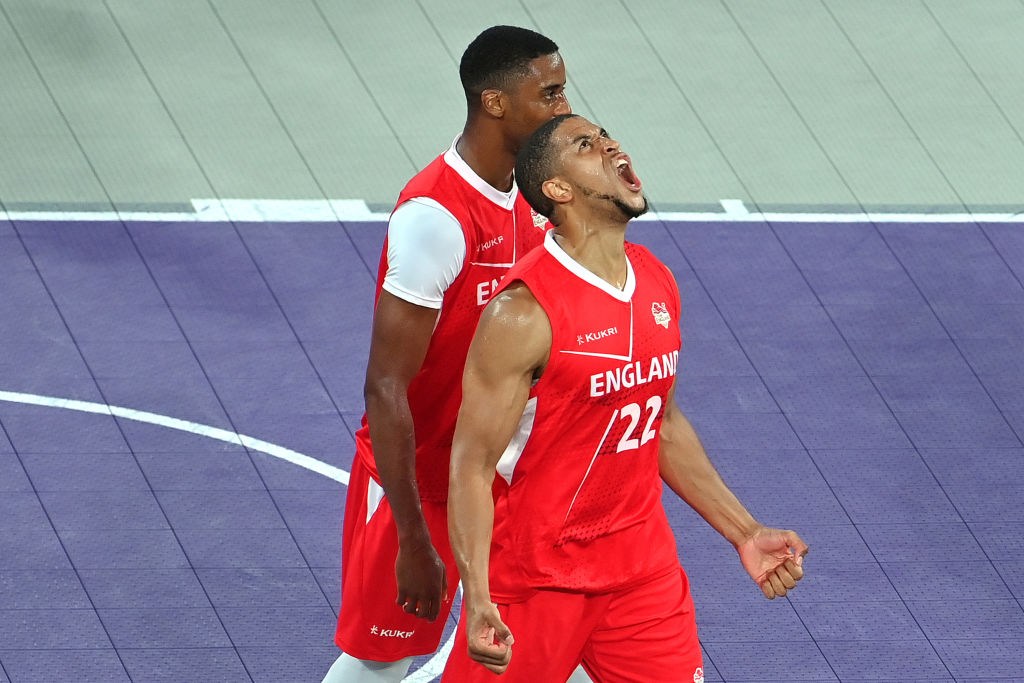 The Birmingham-born star said: "It's incredible. I'm trying to figure out the words. In my wildest dreams, making the winning shot in Birmingham for Commonwealth gold, it's a joke."
Bello brothers take bronze
There was another first at Smithfield, as twin brothers Joaquin and Javier Bello won England's first ever medal in beach volleyball.
The duo defeated Rwanda 2-1 in the bronze medal match, bouncing back from their semi-final defeat against Canada to make history.
Joaquin Bello said: "We performed incredibly, probably the best match we played all tournament, and I'm so proud of my brother and the way he played.
"We're going to keep working. We're going to keep trying to push up the world rankings and try to qualify for the Olympics.
"This is the beginning of beach volleyball in the UK."
Ekimova dazzles on debut
The Games presented an ideal opportunity for some of the best young athletes in England to burst on to the global stage and Marfa Ekimova seized it with both hands.
The 17-year-old rhythmic gymnast made history on her Commonwealth debut, sealing England's first ever individual all-around title, while she also teamed up with Alice Leaper and Saffron Severn to take bronze in the team event.
She said: "It's been my aim, it's been my goal, it's been my dream. I did everything I could. I put my heart out on the floor.
"It was a tight one but it was incredible and a dream come true."
Hockey comes home
It has been an incredible summer for women's team sport in England.
The Lionesses brought football home at Wembley and Team England's hockey stars followed in their footsteps exactly a week later.
There was joy unconfined at the University of Birmingham as an England squad featuring six players who had graced the same pitch as students finally got the better of Australia in the final, having lost to them in three finals at recent Games.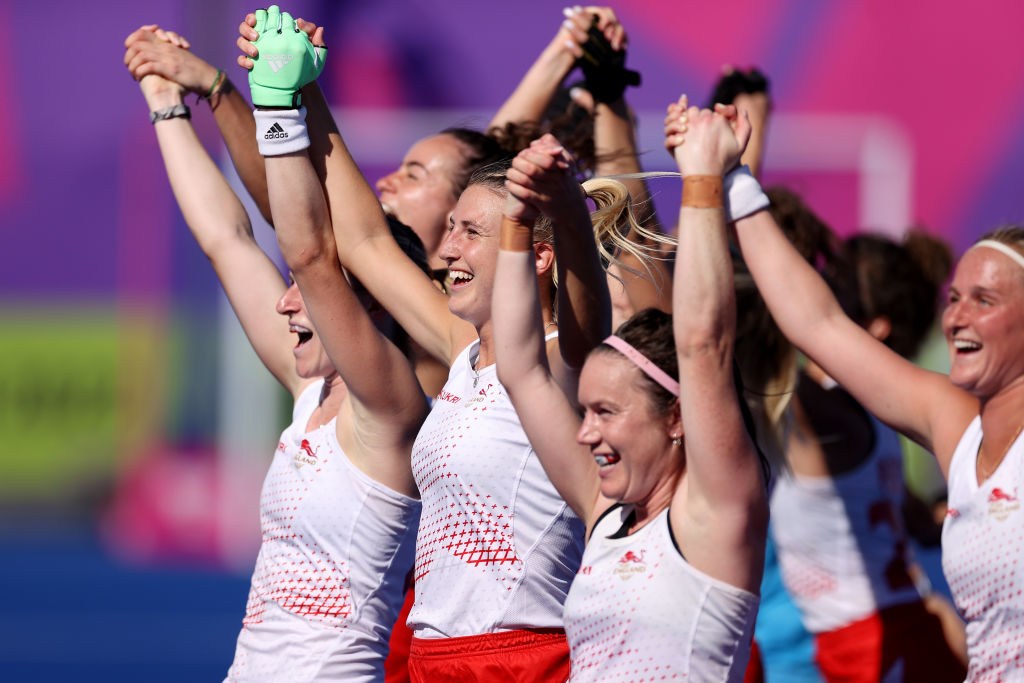 Goals from Holly Hunt and Tess Howard sealed a superb 2-1 win and midfielder Flora Peel said: "You see what the Lionesses' victory is going to do for them, and you hope this will do something similar for us.

"The more women's sport as a whole can build on this momentum, the better for all of us."
Evie Richards bounces back
It had been a tough year for mountain bike world champion Evie Richards.
The 25-year-old has struggled with back injuries and illness throughout the year but produced a dominant performance to secure a hugely impressive Commonwealth gold.
Richards was in awe of the home crowd's support during her race, with her family in attendance as she earned top step on the podium.
She said: "It is absolutely amazing, it's so special. I go to Switzerland and there are always so many Swiss fans, so to be in the UK and have so many supporters behind mountain biking, it is insane and it makes me really proud to be English."
Also earning an emotional gold on the bike was Laura Kenny, who powered home in the women's scratch race to delight the crowds at the Lee Valley Velodrome.
Wilby upsets the odds
Adam Peaty was expected to dominate the headlines in the men's 100m breaststroke but it was teammate James Wilby who earned a shock victory.
Peaty had dominated the first half of the race but was reeled in by Wilby who stormed ahead to win gold.
The 28-year-old was considering his swimming future after an Olympics which fell below his sky-high standards but bouncing back to his best in Birmingham clearly meant the world.
He said: "It is certainly up there as a special moment that I'll remember forever. It just sums up to my enjoyment and having that fun back in the sport is everything."
Peaty, meanwhile, lived up to the old adage that you can't keep a good man down by bouncing back to win the men's 50m breaststroke and complete his staggering set of golds.
Andrea's double delight
There was no shortage of medals for England in the pool and Andrea Spendolini-Sirieix is one of many young stars to have sealed their place in the history books during the Commonwealth Games.
First, the 17-year-old took silver alongside Eden Cheng in the women's synchronised 10m platform competition, before going one step further and earning gold in the individual event.
She didn't stop there, winning gold alongside Noah Williams in the mixed synchronised event on the final day to cap a memorable few days for her and the English diving team as a whole, who recorded their best-ever haul at a Commonwealth Games.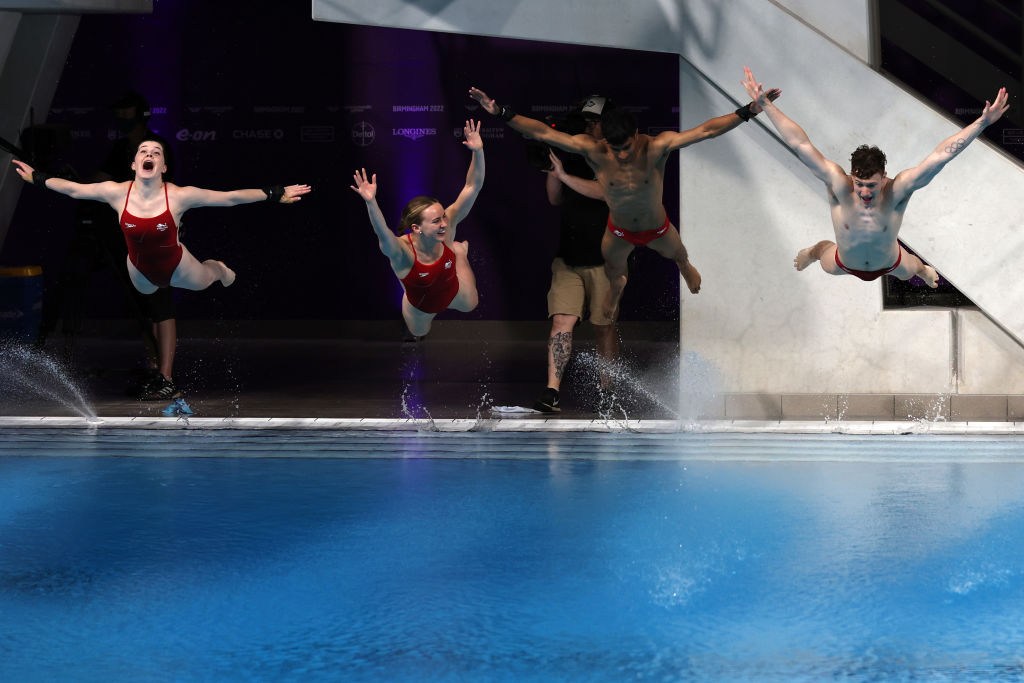 Sirieix said: "I'm very honoured to have been a part of this team. We showed everyone just how good we are and I'm really proud of everyone.

"This has definitely exceeded what I hoped. I came here with no expectations, I just wanted to have fun. I made a conscious decision to train even harder than the last couple of months and it's paid off."
KJT back on top

Katarina Johnson-Thompson cites the Commonwealth gold she won in 2018 as a springboard to propelling her to even greater heights and she successfully retained her title in front of a bouncing Alexander Stadium.
The 29-year-old's display included a personal best in the javelin as she topped the standings with 6,377 points, marking an impressive return to form following an injury-hit spell.
"I'm so happy to get through it healthy," she said. "Hopefully this will be a stepping stone for me like it was in 2018 and we'll hope for better things next year.
"I'm really happy with the javelin, my first PB in three years. I'm not in the best shape I can be so I didn't expect any PBs. It was a nice surprise.

"[The Commonwealth Games in] 2018 was my first global medal outdoors so now it's about getting into that positive mentality, being competitive. Everything bodes well and next year I can start afresh."