Liverpudlian Jack Hunter-Spivey heralded Hall 3 at Birmingham's NEC as his Anfield after winning table tennis gold at the Commonwealth Games.
Hunter-Spivey added the Commonwealth crown to his Paralympic bronze from Tokyo 2020 with a 3-1 (11-4, 9-11, 11-6, 11-7) victory over Nigeria's Nasiru Sule in the men's class 3-5 event.
Growing up on a council estate near Liverpool's stadium, Hunter-Spivey dreamt of emulating Steven Gerrard and taking to the hallowed Anfield turf but found himself riding the crest of a different but deafeningly similar wave of noise on Saturday night.
The 27-year-old said: "I can't describe how it feels.
"It's so hard to describe what I've just done. Winning a gold medal in the Commonwealth Games is something I've dreamt about since I was a kid.
"It's something that I watched on TV and never thought it was possible and now I've won it, it is just incredible.
"It feels so special - when I was a kid I wanted to be the next Steven Gerrard and to be at Anfield but this is my Anfield and the crowd were the 12th man. It is so surreal and I want to do it all again."
Hunter-Spivey's triumph came against an opponent almost 30 years his senior and to whom he had already tasted defeat in the group stage.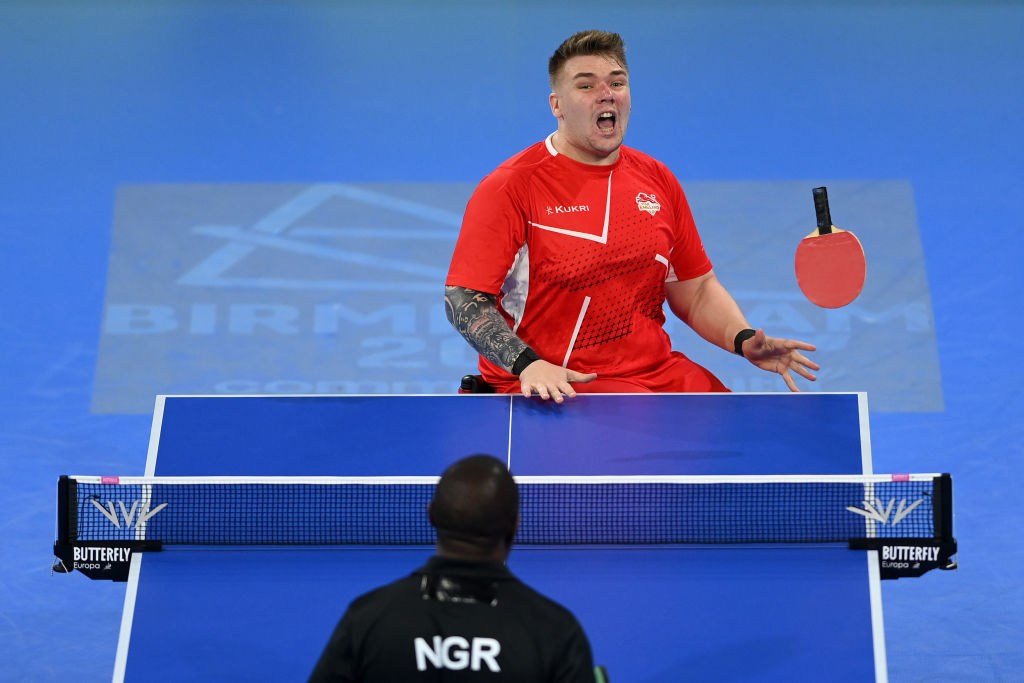 All Liverpool fans recognise the beauty of a comeback and Hunter-Spivey's revenge was as sweet as can be, having plotted it in tandem with coach Andrew Rushton.
He explained: "On the first day of the competition I let the pressure get to me a bit too much and I didn't really enjoy it.
"After that loss I made a conscious effort to just enjoy it and play the level I can do because there are definitely worse jobs in the world.
"So I sat down with Rushy and looked at the game I had lost and thought 'I'm getting my revenge - I'm going to beat him like he beat me in the group stages' and I've done it and it is incredible and I can't wait to move forward now."
Hunter-Spivey may have swapped You'll Never Walk Alone for Jerusalem but his golden moment is set to live long in the memory.
He added: "That roar from the crowd going out for the medals and hearing Jerusalem being played – I'll never ever forget it in my life and I'm so thankful for the position I'm in.
"The home crowd was a big motivator and it means everything to have my friends and family here.
"My girlfriend Lucy and I have been through thick and thin and I'm on top of the podium now and it is for both of us and everyone who has supported me - it is incredible."