Team England pulled off a one-two in the men's 100m and won its first-ever para medals on an action-packed opening night of athletics at the Commonwealth Youth Games.
Teddy Wilson became England's first champion since 2000 in the blue riband track event and he was joined on the podium by fast-finishing Ebuka Nwokeji.
Trinbago 2023 marks the first Youth Games to feature para events and Team England led the way with a maiden para athletics medal from Bebe Jackson shortly followed by a first-ever gold courtesy of Maddie Down.
On the second night of racing in the pool, there were a further six medals including a stunning women's 50m breaststroke in Games record time by Sienna Robinson.
And to complete a successful day for the team in sweltering Caribbean heat, both beach volleyball pairings sealed safe passage to the quarter-finals.
ATHLETICS: HISTORY MADE
Not since Tyrone Edgar's triumph at the inaugural Commonwealth Youth Games in 2000 has an English sprinter stood atop the podium in the men's 100m.
Sixteen-year-old Teddy Wilson, who trains at Be Fit Today Track Academy, changed all that with a gun-to-tape victory in a time of 10.37 seconds.
Things were less simple for Nwokeji, who came surging back from a sluggish start to snag silver in 10.43s, edging out Jamaica's Shaquane Gordon in a photo finish.
Nwokeji said: "Teddy called it, he said it would be a one-two. If anyone other than me would win, it had to be England and it's so much sweeter to do it with a team-mate in this atmosphere."
Thirty minutes earlier, Maddie Down romped to a historic gold in the women's 100m T38 and took victory by nearly half a second in a clocking of 13.47s.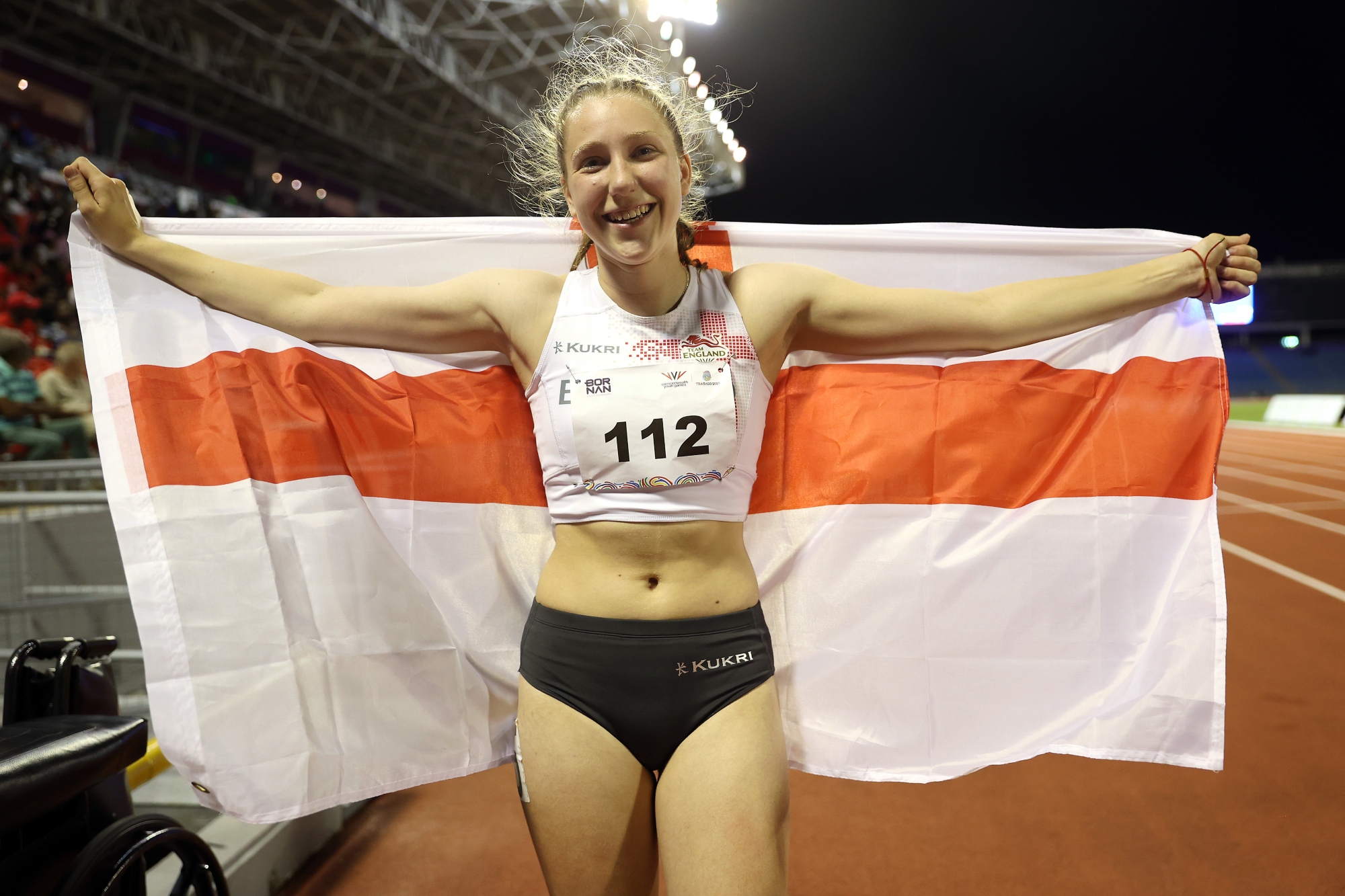 It was all the more impressive given Down battled injury during the winter and was unable to train for long periods.
"It's a bit surreal to be honest," she said. "I'm overwhelmed. I didn't see this coming or think I'd get to this point. I had a great field to race against and that."
It came moments after Opening Ceremony flagbearer Bebe Jackson got her hands on one of the first set of para medals ever handed out at the Games, her personal best 24.24m hurl earning women's discus (F42-44/F61-64) silver.
"I feel very proud of myself," said Jackson. "I'm going to take this as a learning curve, I got a bit annoyed with some of my throws and I know what I need to work on."
All English athletes who raced on the day advanced to their respective finals in a stellar showing from the team.
SWIMMING: SIX MORE MEDALS
Fresh from showcasing her endurance and tactical nous for silver in the 200m breaststroke, Sienna Robinson stormed to 50m gold to lead off another stellar night of swimming.
The Sheffield star crashed through the previous Games record, set in 2008, in the heats with 32.11s, finding another two tenths for victory in the final to shave it down still further.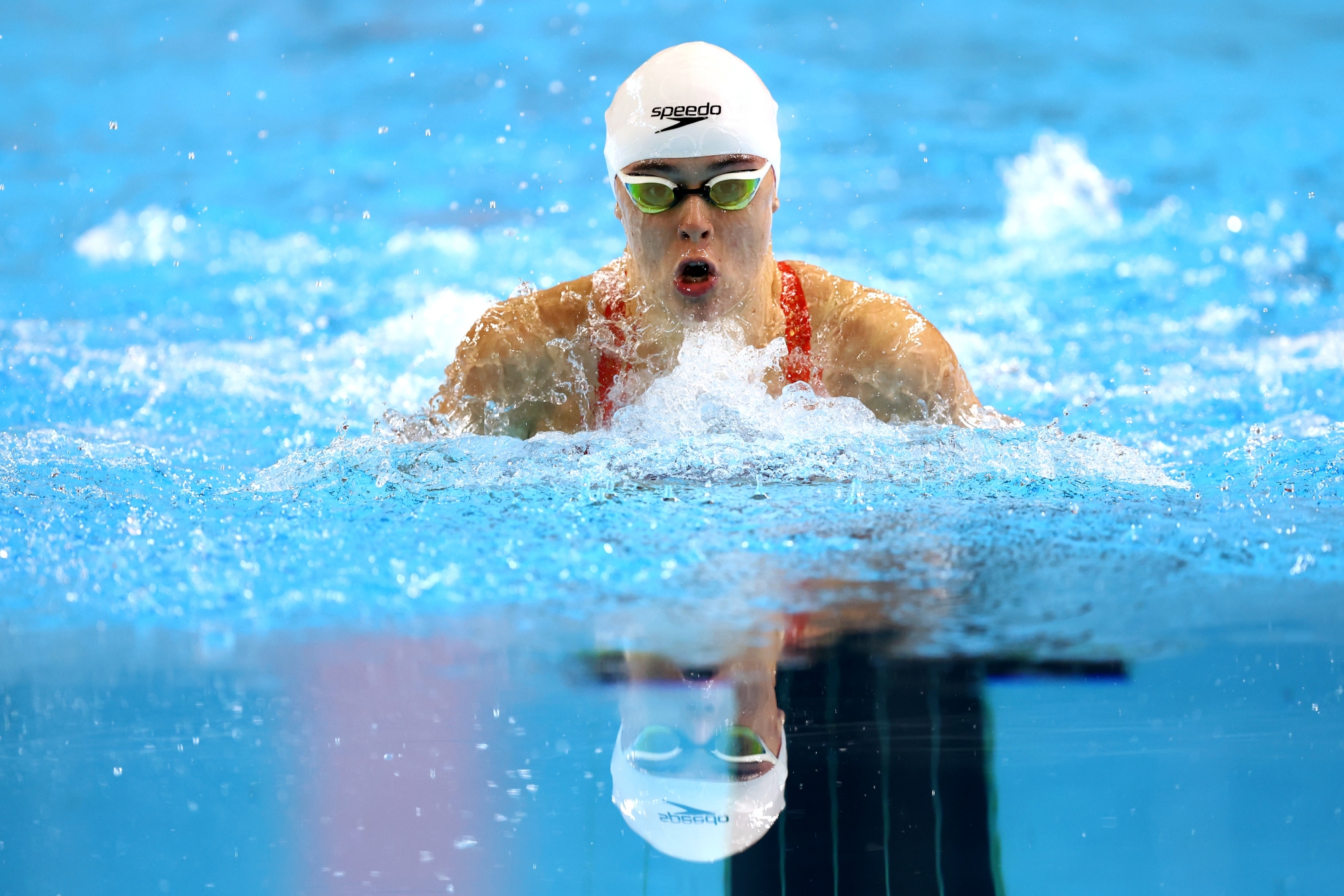 "I'm just happy to be racing, to get out there and give it my all," said Robinson. "There are times this season where I haven't, so I'm pleased to be out there enjoying it again."
Team England matched Sunday's swimming medal haul of six, this time yielding three golds, two silvers and a bronze.
Oscar Bilbao cemented his and English dominance of breaststroke events with 50m gold and Reece Grady upgraded 1500m freestyle silver with a five-second personal best for 400m individual medley gold.
Grady said: "Going into the race, I really didn't have very high expectations. I had no idea where I was in the race, I was just trying to beat the guy next to me."
There was silver for Blythe Kinsman in the 50m backstroke and a medal of the same colour for the mixed 4x200m freestyle in the first relay event of the programme.
BEACH VOLLEYBALL: SERENE PROGRESS
Team England's male and female beach volleyball pairings progressed to the quarter-finals thanks to clinical performances in the last 16.
First, Daisy Boardman and Alice Jagielska dispatched Cayman Islands 21-9 21-14 to set up a last-eight clash with Kenya.
Then Peter Soczewka and Rob Morgan built on that momentum with a similarly emphatic 21-10 21-13 success against Sri Lanka; they will meet Australia in the next round.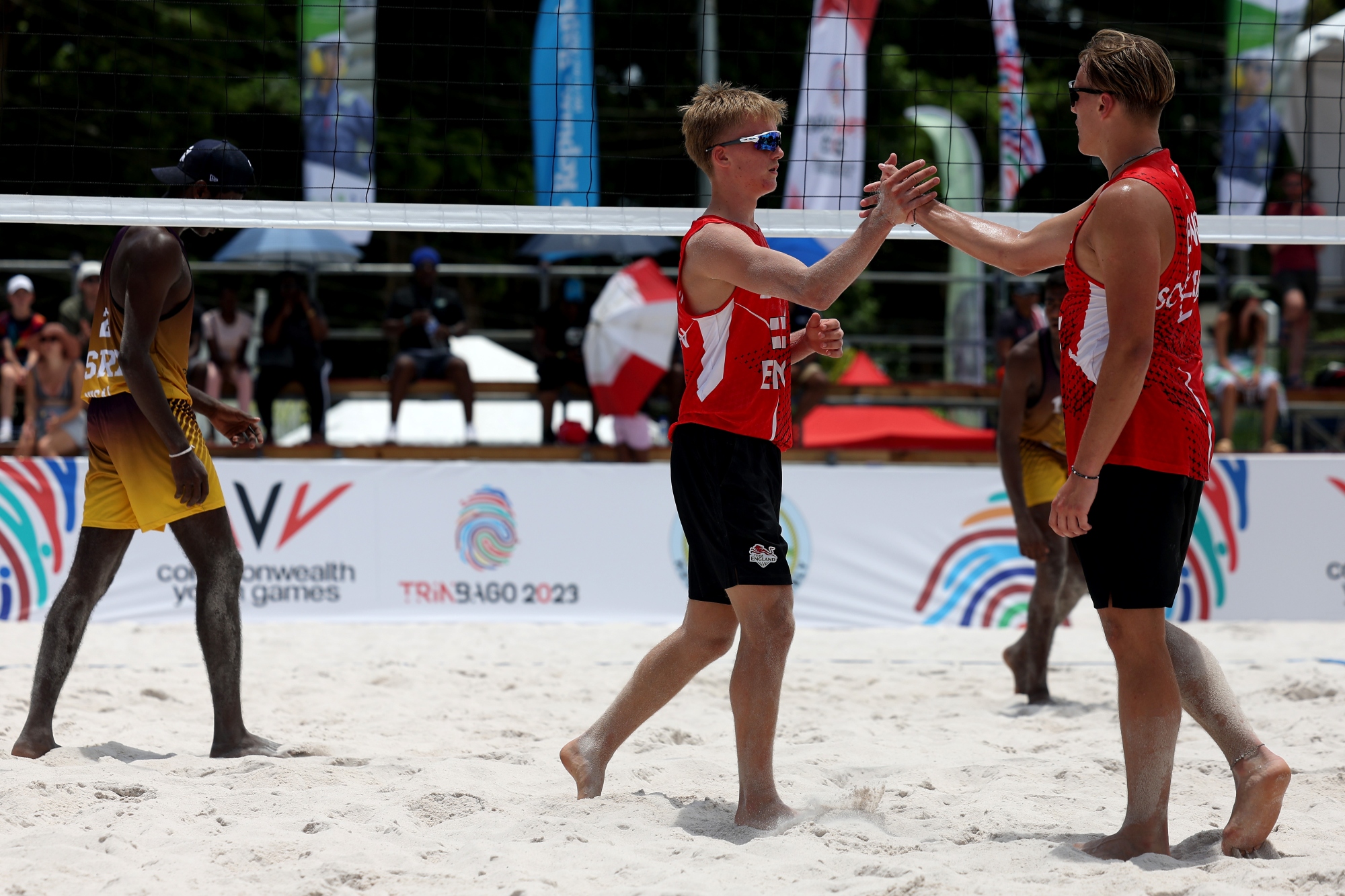 "We were pretty confident going into it and we're happy with how it played out," said Morgan. "They clawed it back in the second, more due to our mistakes than anything."
Soczewka added: "After a performance like that, we can be confident going into the quarter-finals."