Kieran Rollings is hoping to put a frustrating 2020 Lawn Bowls season behind him as he continues to build for a second Commonwealth Games appearance on home turf in 2022.
Having made his Lawn Bowls debut for Team England at just 18 years of age on the Gold Coast in Australia two years ago. The Kettering Lodge Bowls Club player is looking forward to going back to training, having been unable to do so since lockdown was initiated,
"Lockdown has really affected us and our sport, Rollings said.
"We have been unable to train or go to any lawn bowls facilities because they are basically run as businesses and they had to shut. They've only just been starting up this last week when the PM said businesses could start going back. So, practice and competition wise we haven't done anything for the last two or three months and this outdoor season has been completely cancelled."
Preparation off the greens
With all National Competitions, International Series and the World Championships postponed until next year Rollings has been staying prepared for when he returns to competitive action with regular talks with coaches and managers as well as the national governing body over the last couple of months. With the idea of improving the way they train in the future.
"When we get back on the green, training can then be more purposeful practice. We've done a lot of zoom calls based around team building and bonding, as well as around the psychology of the sport."
"We can't do anything on the greens, for this outdoor season competitively before they get more stuff in place for next year, so when we do return we can play more competitively. In the next few months we can prepare for those competitions, through psychology and fitness rather than practising on the greens and playing competitions and just look forward to next year."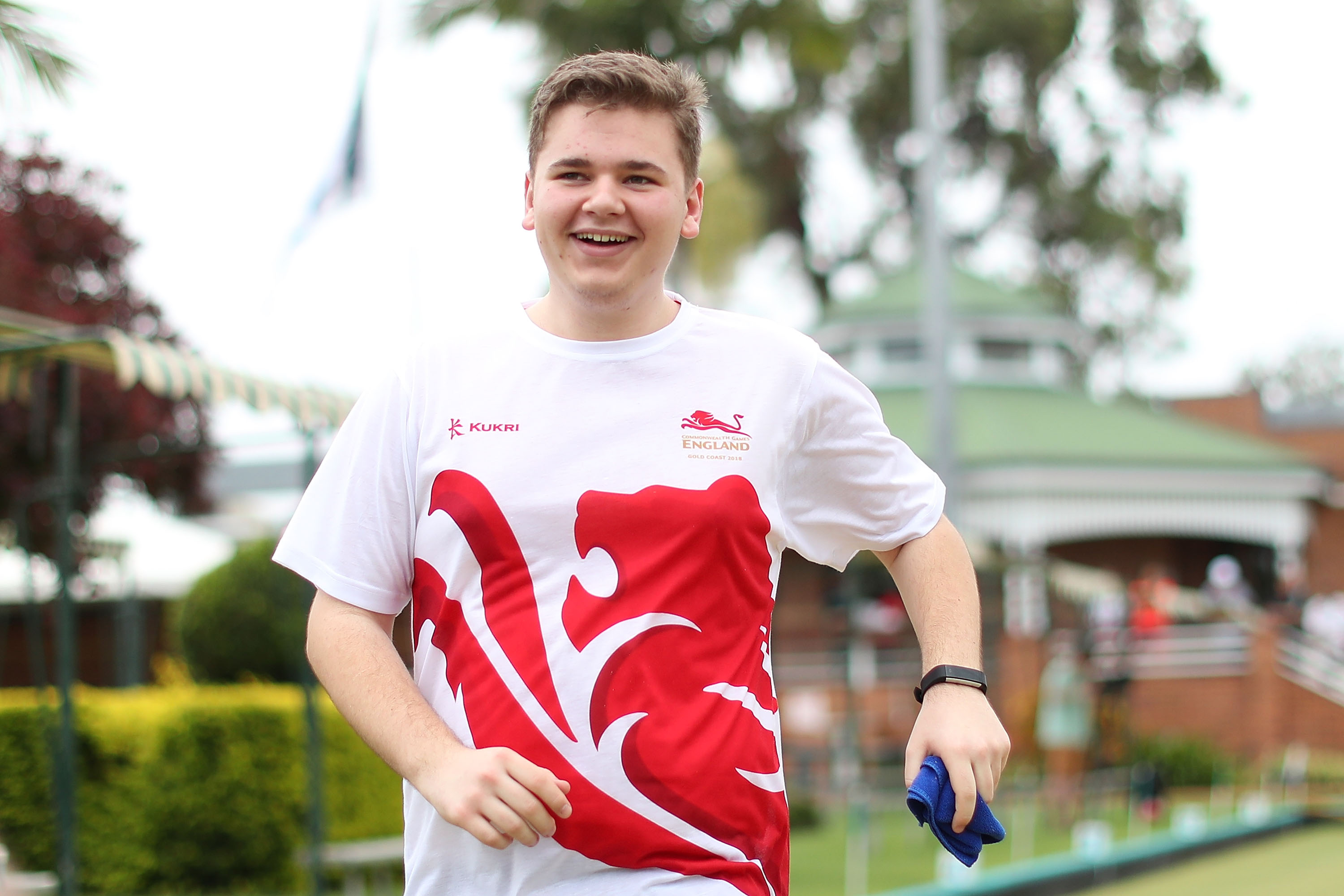 Coming together
Despite these setbacks Rollings admits that the bowls community has come together during these tough times,
"We are supporting each other and supporting new ideas and more communication within the sport to get things back up and running and do more to promote the sport as well which is good. Especially with trying to promote a younger generation, rather than the stigma of it being an olds person's game, we are trying to push for a new generation to enter the sport."
Rollings experience of being a young lawn bowls player is exactly the sort of inspiration needed for young players entering the sport. Despite his experience at Gold Coast two years ago, the 20-year old is happy to take on advice from all places.
Being an athlete on the Sir John Hanson scholarship – a programme devised to help young Team England athletes in their development towards Birmingham 2022. This has led to Rollings sharing mentoring workshops with Commonwealth Games England president Denise Lewis, which has given him extra motivation leading up to 2022.
"Knowing that we can go to her for support is fantastic, as well as hearing her experiences from the Olympics and the Commonwealth Games over her career and then sharing my experiences from the Gold Coast. It improves the way I can prepare going into 2022 as well as improving my mentality going forward."
Birmingham 2022 and beyond
Competing at the highest level of the sport is something Rollings is eager to experience once again with 2021 being a big year leading into Birmingham 2022.
"We have test series in April and test matches in June and July against the Australians and New Zealand. Then at the back end of next year we will look at the World Championships again because they were cancelled this year in New Zealand, which will be a high-pressure competition going into that year of the Commonwealth Games."
The lure of a home games looms large in Rollings' mind, with both the extra pressure but drive to succeed a major factor going forward,
"Just thinking of 2022 and competing in front of family and friends and not just that but a home English crowd of people. Knowing they will be supporting will be emotionally hard when we step out in front of the home crowds, but once we are there and in the zone and we can hear the support I think the pressure is going to be 10 per cent extra but the motivation is going to be 100 per cent more."
To follow the fortunes of Team England athletes in the lead up to Birmingham 2022 follow Team England on Facebook, Twitter and Instagram.