From making her Team England debut on home soil at Manchester 2002, to taking on Team Leadership duties in two years time at Birmingham 2022. Kelly Sotherton has had quite the Team England journey when you include a gold medal victory down under at Melbourne 2006.
Carrying on the rich tradition of fantastic Team England heptathletes, Sotherton reveals the big moments in her Team England journey.
Manchester 2002
It was an amazing experience, because I missed out on going to Kuala Lumpur in 1998 as I was injured. I worked really hard to get to the 2002 Games and especially because it was my first big championships and it was in Manchester.
My expectation was probably too high and I came 7th overall and was bitterly disappointed. But actually it was a turning point in my career. It was a case of 'Am I going to quit my sport now because I wanted to join the police or do I give it one more year and see what happens?'
My mum persuaded me to have one more year and when I look back 2002 was a massive foundation as my development as an athlete. It is the same for a lot of athletes that the Commonwealth Games will be their first opportunity to perform at this level and for some it is a make or break but it can also be a massive platform.
So although my javelin was awful, I finished on a high with the 800m and gained a personal best which was the motivation I needed to go on two years later and win an Olympic medal.
Melbourne 2006
I gave up going to the World Indoor Championships in Moscow that year and I probably would have gone there and won because there was no Carolina Klüft. But it meant more to go to Melbourne and try and win gold at the Commonwealth Games because it was probably my last opportunity because I knew Delhi and where it sat in the calendar it wasn't going to fit well with my plans.
It was a strange competition, and it was kind of underwhelming when I won Gold and I wondered what happens now. It wasn't until I got home that I truly realised I had won gold, because you are in such a bubble and that was the emergence of Jessica Ennis winning bronze too. But it was a really good level of competition we had compared to previous Games, and I was the number one going into it.
What was also great was that I got World Lead because no one else had done a heptathlon at that point which was the first time that had happened for me.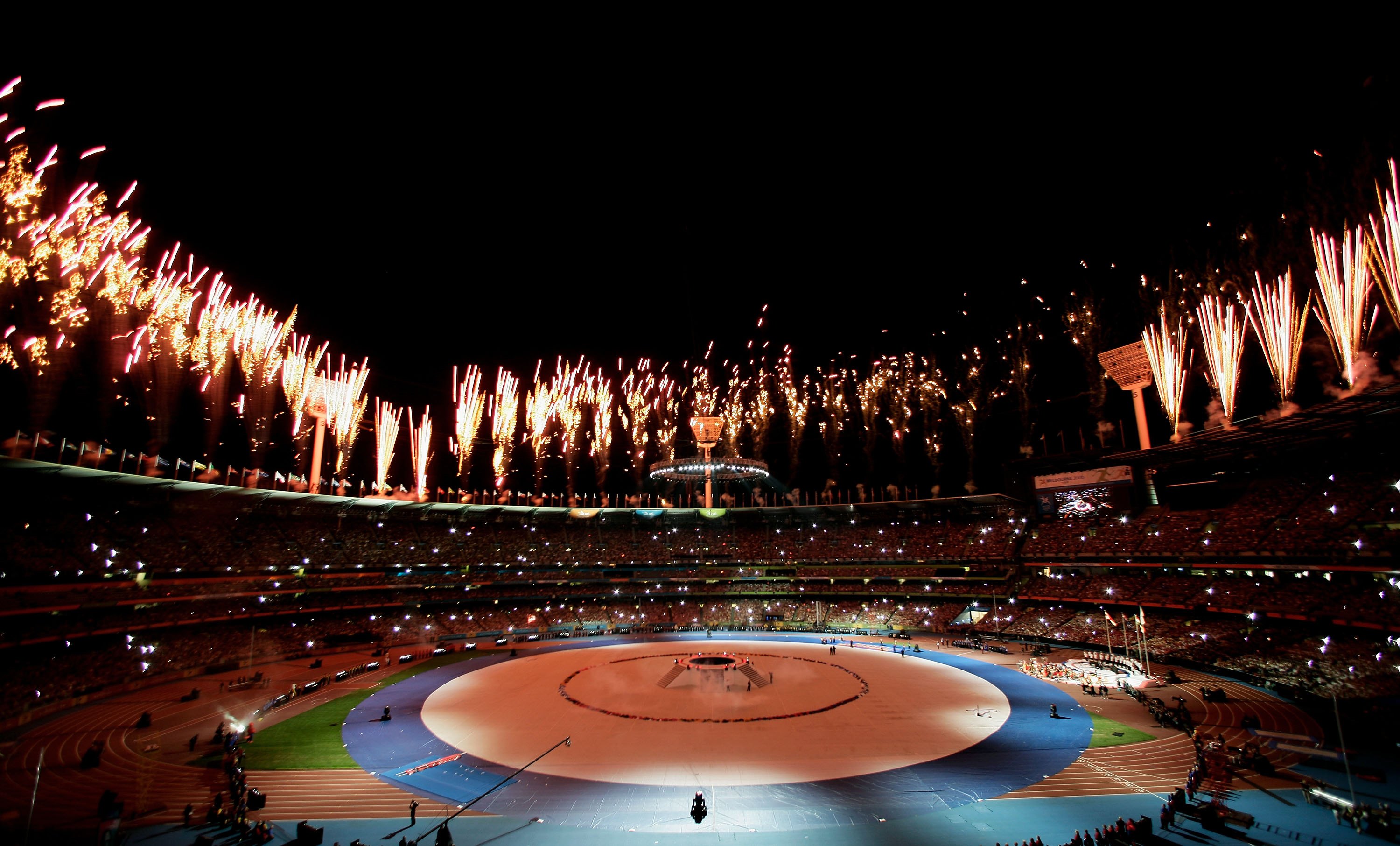 When I say to other sports people I competed at the MCG, they are like 'have you!'. I went back there after Gold Coast 2018 just to see it and I can't believe that is where I won it.
In 2014, I got burgled and one of the things that got stolen was that Commonwealth gold medal and I actually went on Crimewatch to appeal for it. The next day a postman found it posted in postbox literally down the road from me, so that medal got returned to me and has an unusual story which means quite a lot to me.
Gold Coast 2018
I had been coaching since I retired in 2012 and coaching various multi events, 400m and 400m hurdles. One of my best friends was the event group lead for jumps and combined events. I was already involved with age groups through British Athletics so that held me in really good stead as part of a development as a coach at Championship level.
I think having that experience before was crucial, not just as a team coach for age groups but also the experience as an athlete winning and losing. The role of team coach at a championships is supporting and facilitating them from A to B. Many times an athlete's coach is there and ensuring they have everything they need to perform. It was quite an honour helping an athlete to that level with Katarina Johnson-Thompson who won gold and Niamh Emerson who won bronze. .
It was a massive learning curve to deal with the stress but we had a really successful team, to see someone winning gold in my event was fantastic. Because we have a really strong tradition in Commonwealth Games heptathlon so to see someone else who you are supporting win, felt as good as I'd won it.
Birmingham 2022
In the UK we do hold good championships and specifically in Birmingham we always have good meetings here at that level. They are always well supported and athletes come out and perform at their best and I've been that athlete too.
There are going to be athletes who are going to go out there and stamp their authority, there is going to be disappointment and tears. There is going to be people who you don't expect to medal, who do and even win. That's part of the journey of the championships with the expected and unexpected disappointments.
We expect lots of joy and there is a lot of pressure to win medals, I just want everyone to go there knowing they've done everything they can and I want to know that I've done everything that I could have to support that journey as well and I think that is important too.
If I can go away knowing that we done the best we can, especially with the two years we would have had running into the games then I'll feel good. But hopefully we can come away from the Games with people having achieved more than they had hoped for.
Whether that be the Gemili's, Dina's or Kat's, or those athletes who are competing at the Games for the first time and I think that is the aim.
To keep up to date with all the Team England athletes in the lead up to Birmingham 2022 follow Team England on Facebook, Twitter and Instagram.