Zoe Newson and Olivia Broom completed a historic one-two for Team England in the para powerlifting today.
Nigeria's stranglehold on the sport, they are the only nation to win gold since its introduction at Manchester 2002, was broken in bizarre style after their two athletes, including reigning Paralympic and Commonwealth champion Latifat Tijani, were disqualified for arriving 25 minutes late for the pre-competition kit check.
That allowed Newson the opportunity to upgrade her bronze from the Gold Coast and Broome to get in on the podium action in the sport she only took up in 2017.
Newson was overwhelmed when she realised that she would be Commonwealth champion.
"As soon as I found out I just burst out crying backstage," said Newson.

"I was just trying for a PB [102kg], to enjoy it and do my best really. But coming away with the gold medal is a massive bonus. I didn't get the PB but I got the gold medal so I'm happy with that."
Newson was aware of the Nigerians' disqualification prior to competing, but didn't let that distract from lifting 1kg lighter than personal best.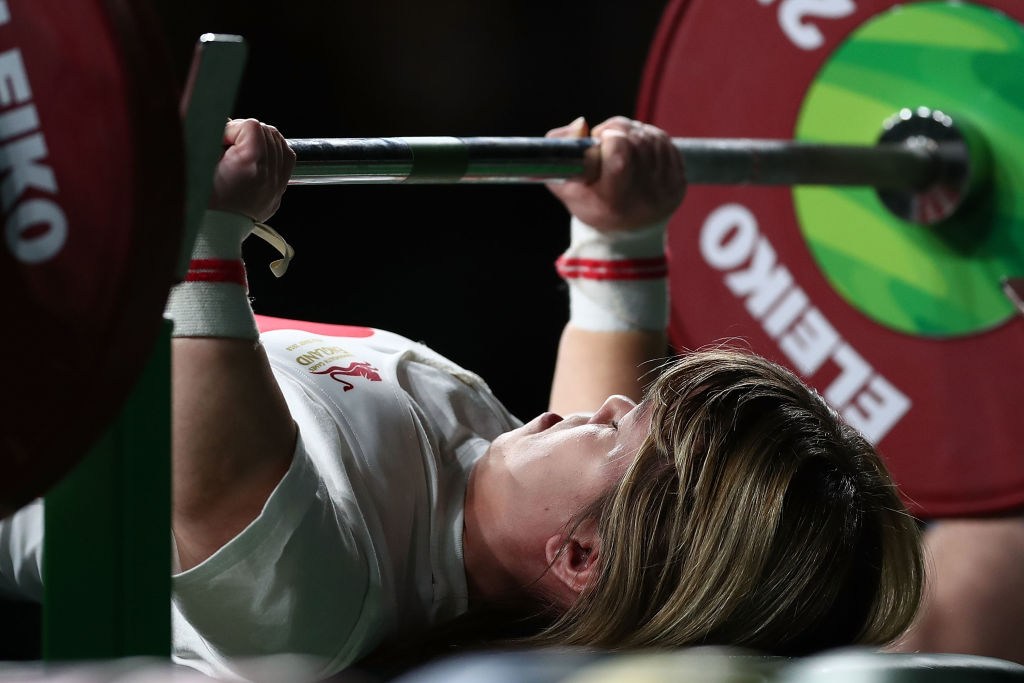 She said: "It was a little bit of a boost, but I just stayed focused on myself. I didn't think about what was happening around me."
She was also delighted to be joined on the podium by teammate Broome, who only picked up the sport in 2017.
Newson said: "I know today we're opponents but we're friends as well, so I was so happy to have her up on the podium with me. We get on and train together, cheer each other on."
Broome bench pressed 111kg with her third successive successful attempt to register 100 points just 2.2 behind her friend and rival Newson, who racked up 101kg but is 13kg lighter.
Broome, 21, said: "I'm over the moon. I was in my own zone, laser-focused on what I needed to do and wanted to achieve. It couldn't have gone any better than it did.
"Today's numbers are around the same as training, I've started hitting those numbers. But the atmosphere and the venue helped me give that little bit extra.
"A medal means so much to me. When I started this sport, I never thought I'd be here now. I thought it would be years before I could call myself a Commonwealth silver medallist."
In the men's lightweight final, Mark Swan took home a silver behind Malaysia's Paralympic champion Bonnie Bunyau Gustin who broke the Commonwealth Games record.
Swan said: "It hasn't sunk in yet. I have it round my neck but it doesn't feel real yet.
"My confidence is normally quite high anyway but on that first lift, I started a bit early and it got the heart rate up a bit. But I kept calm and composed, went out there for the second one and it all went from there.
"Having a home crowd is incredible. The atmosphere really spurs you on when you walk out. My family were up there somewhere too."