Jamal Petgrave admitted he was awash with relief as he achieved his dream of becoming Commonwealth champion.
The Carshalton judoka overcame Mauritus' Remi Feuillet in the men's -90kg category with a golden score over a minute into overtime to send the home crowd into raptures.
It had been a hard-fought and scrappy contest, with neither man getting a grip of the other.
But Petgrave revealed he simply kept his calm as the contest wore on to clinch gold.
"Going into golden score, I could feel him wavering, getting tired and I just had to take the opportunity when it came," said Petgrave, who takes gold on his Commonwealth Games debut. "I was just trying to feel him out.
"I haven't been on with him before, when you're coming up against a fighter you're fighting for the first time, it might take you a minute or two to work out what their strengths and weaknesses are."
Perhaps it was the unforgiving glare of the lights that bathed the arena, but the temperature was slowly rising in Coventry as the fight drew on with both refusing to blink.
Petgrave thought he had won it with a waza-ari 30 seconds into the golden score period, sending the crowd crazy, but the referee was unmoved and the 25-year-old finished the job under a minute later.
For the three-time British champion, to do it in front of a home crowd made victory all the sweeter.
"It's been amazing," added Petgrave. "My family coming to watch, friends coming to watch.
"They all know what I do but because so many of my competitions are abroad, it's not easy for people to come and watch but this one is on everyone's doorstep.
"Everyone has come to watch, I know they're pleased.
"I went to Coventry Uni and one of my lecturers was in the crowd. I know all about the arena we're in, there's just something about it."
Petgrave now has his first gold medal at a major championships and has announced himself on the big stage.
And now the Londoner is in no doubt about his plans for the next two years.
"That's the aim, to push on and try and qualify for the Olympic Games in Paris," said Petgrave.
"I've got about two years, fingers crossed but I know if I train well, fight well, I'll be there."
For now though, Petgrave is focused on recuperating after being consumed by his quest for Commonwealth gold.
"[I'm going to] relax, sleep for a few days, it's been an intense last few days," said Petgrave.
"I wanted to become Commonwealth champion for the last few weeks in my head.
"It's been quite an intense few days of me thinking about it and to deliver on the promise that I gave to myself to perform.
"Coming here today, I was itching to fight. Seeing everyone else medal over the past few days, I was just raring to go.
"I wish I could have fight on Monday, but I waited my time, fought my fight, and I'm coming away with the gold."
Royston judoka Emma Reid claimed Commonwealth gold on Wednesday by beating "idol" Natalie Powell in front of a packed-out Coventry Arena.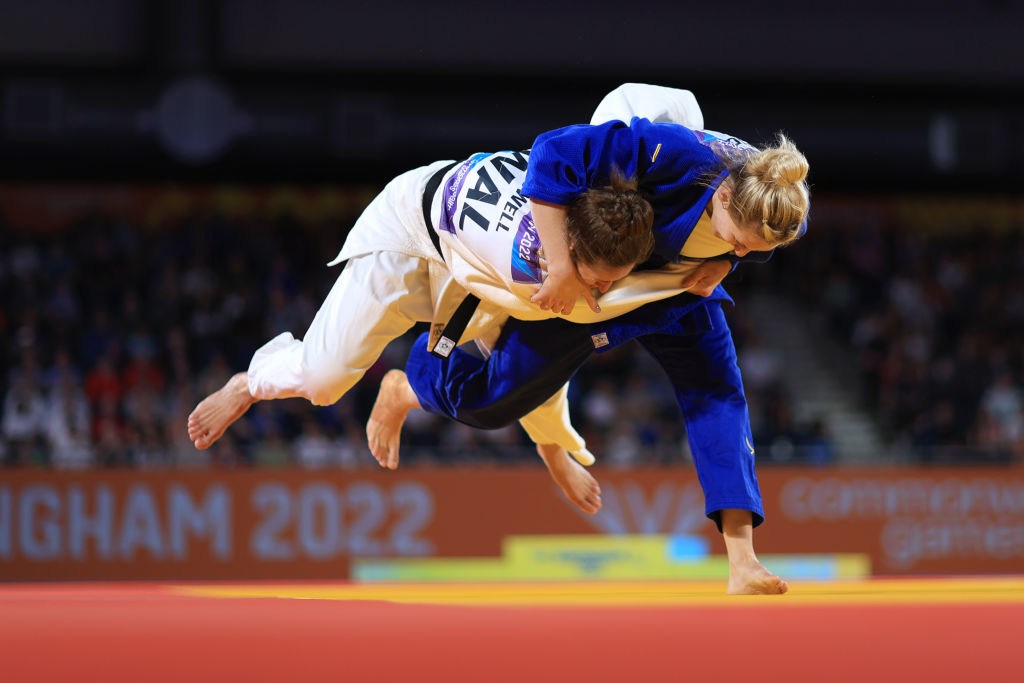 A little while later Emma Reid produced the performance of her career to overcome 2014 gold medallist Natalie Powell, edging a hard-fought contest by a singular waza-ari.
The 27-year-old has had her injury troubles but revealed the hard times were all worth it now she was a Commonwealth champion.
"I haven't fought her since I was 16 and she won. She was my idol when we fought then and she still is now, but we're on the same level now," said Reid.
"It was really nice to fight her – you grow up looking at people in your weight so to go on and fight them, and beat them, feels quite surreal."
Reid had elbow surgery in 2019 after serious damage to her tendons and admitted there were times when she did not believe she would be at a major Game but praised her mental fortitude as much as her physical strength.
"Because I'm a bit older I'm like 'is this the last injury, is it time to pack up?'," added Reid.
"But when you get to rehab, you think 'no, I've still got it'.
"You can train as hard as you want but people forget about the mental side.
"For me, that's what makes the difference on the day. You have to dig in, think you're the best and do it.
"I was worried, there was still a minute left so I thought I can't avoid the situation. I had to be strong and defend her grip.
"I always doubt myself and when it happens, I'm like 'oh my god, I've done it'. To do it in front of my parents and all my friends, it's definitely the highlight of my career."