The future is now for Jake Jarman after adding all-around gymnastics gold to his team success at just 20 years of age.
The youngster from Huntingdon, who trained at the same club as London 2012 silver medallist and inspiration Louis Smith, upset the form book with a dazzling display at the Birmingham Arena to claim his second Commonwealth gold in three days.
He got the better of compatriot James Hall who was suffering with an ankle injury.
And having battled injuries of his own, Jarman was overwhelmed by the magnitude of what he had achieved.
He said: "I'm over the moon. It means the absolute world to me to have this preparation over the last few months really pay off. Especially at the back end of last year, having to push through injuries, it was an uncertain time, not knowing if I would be ready to compete at these competitions. But being here and being a part of this team, the amazing team that Team England have, it's something I'll always remember.
"I started in Huntingdon, I think I was about nine. In the 2012 we had a big screen up at the club, we had a projector and I remember watching (Louis) at that competition and seeing him do so well. I remember wanting to be like that, to have that opportunity. These competitions feel like a huge stepping stone on that way. After today, anything is possible."
The all-English battle came down to the vault, where Jarman's score of 15.300 swung the final his way for good.
With Smith retired and Max Whitlock absent from these Games, it was an opportunity for a new star to step up. Jarman has two golds from two competitions and looks ready to step into that limelight.

Fellow Englishman Hall, 26, was courageous in the face of acute pain after landing awkwardly in vault and a silver medal with a score of 82.900 was just reward for incredible perseverance.
He said: ""I can't ask for anything else, silver, I'll take that, Jake really deserved gold.
"I've always had trouble with my ankles but last week in training I had a bit of a bad landing on my ankle in vault. Nothing too bad but I didn't do floor for a few days. I got back on it and it was absolutely fine. A bit sore but heavily strapped.
"Then today, I don't know what it was, I went to vault and landed a bit deep and it was agony.
"I was wincing with the crowd. It was great, the crowd was willing me on. I've never heard anything like that.
"I've really got Jake [Jarman] to thank, my coach and the crowd as well because everyone kept me going. My coach said you can stop at any time, but there was no way I could stop and I'm glad I didn't."
But while it was joy for Jarman, the fine margins between success and failure were laid bare as home favourite Alice Kinsella was left in tears following a mistake in the women's all-around final.
A fall on the beam, an element she won gold on four years ago, cost the Sutton Coldfield gymnast a place on the podium as teammate Ondine Achampong took a superb silver.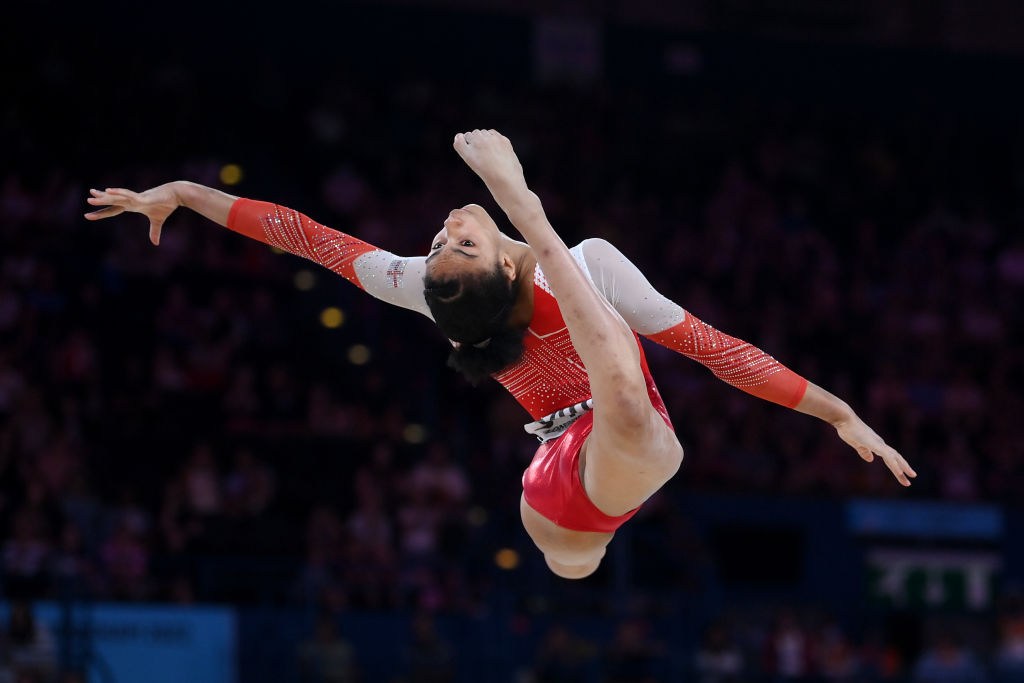 Kinsella's looked primed for the top step before the slip-up as her score of 11.000 proved fatal to her chances, while 18-year-old Achampong recovered from her own beam error with a magnificent floor routine for a total of 53.000 to finish just behind Australia's Georgia Godwin.

And while Achampong was delighted to pick up her second medal of the Games following the team gold she won with Kinsella and Co a day earlier, she admitted her teammate's heartbreak took some of the shine off the result.
"I don't know how to describe it, I'm a bit tired but it's really amazing," she said.
"I don't think I could have got through this without Alice, I don't think I could do it on my own. Just having someone to talk to, I just made sure she was okay once beam finished.
"We had a chat and we made sure that everything was okay and that we could move on to the next piece and I couldn't ask for someone better than Alice by my side.
"It definitely takes the shine off a little bit, I would have loved to have shared it with her, but we've obviously shared the whole experience of the competition together which was amazing."