Team England's swimmers won a stunning six medals on the first night of finals at the Commonwealth Youth Games.
Oscar Bilbao's dramatic 200m breaststroke gold, four silvers and a bronze catapulted England into the upper reaches of the medal table after day two of competition in Trinidad and Tobago.
There were encouraging performances across the board for the swimmers, with personal and season's best times registered, with many athletes entered in multiple events in the days to come.
Bilbao, 17, stole the show with a scorching last 50 metres to claim victory and Team England's first title at Trinbago 2023.
The Hereford native was fifth through the first 100m and 0.74 seconds shy of gold medal pace at the final turn with Cypriot Alexandros Grigoriou and Maxwell Anderson of Wales setting the pace.
But Bilbao, who swims at Hamilton Aquatics, cracked a 33.88 final lap and overtook four swimmers to touch the wall in 2:15.57, claiming top prize by a full 0.46s.
"It's a big accomplishment, I'm really happy with the result," said Bilbao.
"Generally when I'm swimming my best, I'm holding off a bit and bringing it at the back end. I was behind but I had to stick to my gameplan.
"I know I have that back end so I had to trust in my race and it worked out for me.
"I've had some meets that haven't gone my way so to get it here, for Team England, feels great. The atmosphere here is fantastic, everyone was screaming and cheering for me."
In a strong showing for the team, Edward Marcel Whittles (Chelsea and Westminster) came home sixth in the same race.
Having set a Games record in the heats at his first-ever international meet, Nick Finch (Chelsea and Westminster) got Team England on the board with silver in a frantic men's 50m butterfly final.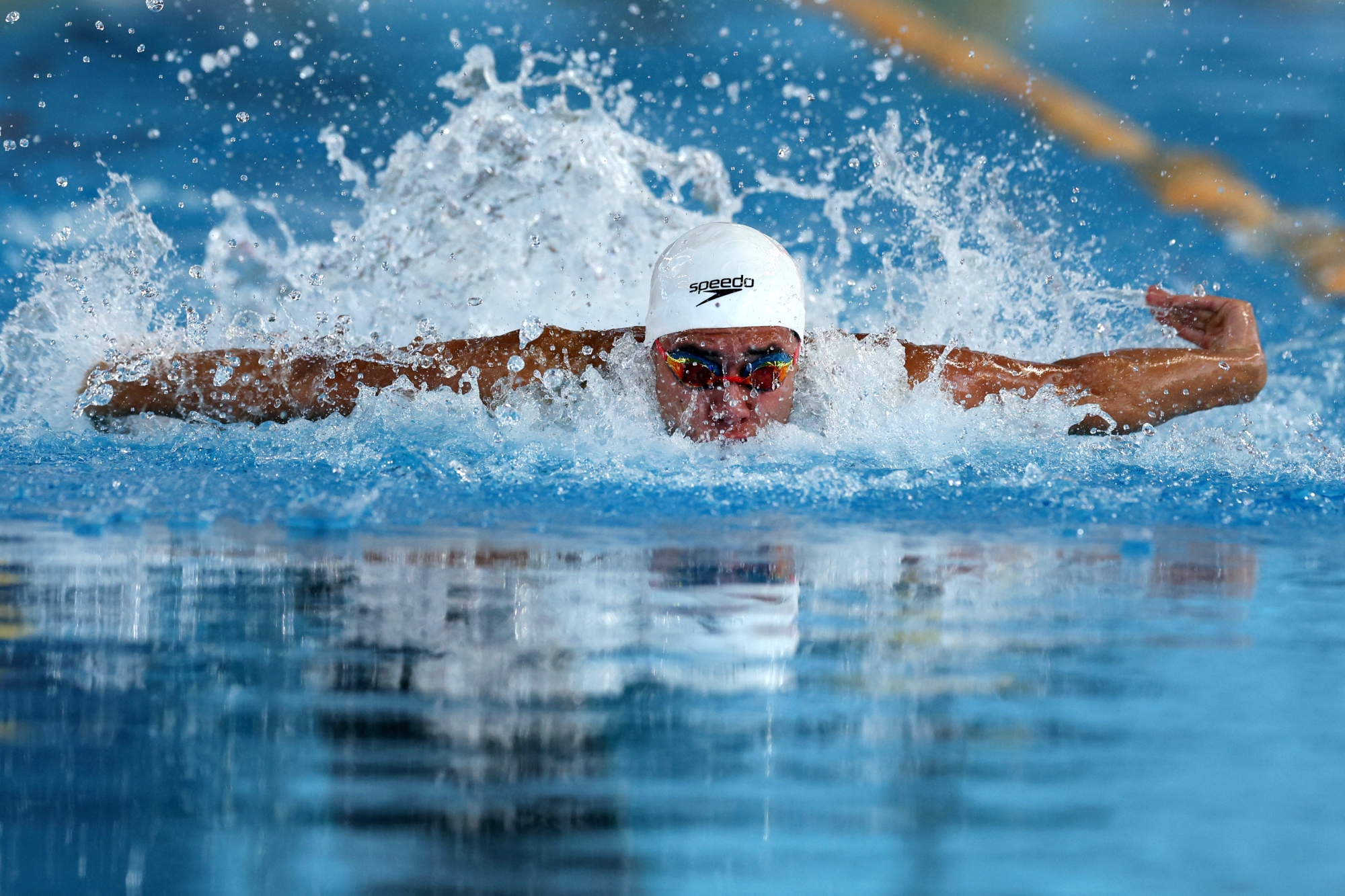 Finch's new Youth Games record of 24.32 seconds, going under Scott McLay's 2017 mark, would not be beaten in the final but a strong swim of 24.46s saw him touched out by Scotland's Dean Fearn.

Finch said: "It feels amazing to get the first medal.

"Given my first-ever international, I came here to have fun and take it all in. I was striving for gold, but I know my mistake and I'm really happy."
The night began with a valuable hit out and sixth place for Skye Carter (Basildon Phoenix) in the women's 50m butterfly and the medals kept on rolling with Erin Little (Mount Kelly) snagging silver in the women's 200m freestyle.
An expertly-paced swim saw Little clock a time of 2 minutes 1.58 seconds, some way behind dominant Australian winner Inez Miller but enough to beat Miller's team-mate Mikayla Bird to bronze, with Ashleigh Baillie (City of Sheffield) taking fifth in 2:06.14.
In the 100m backstroke races, Adam Graham (Millfield) bagged bronze in a personal best time of 56.39s.
Graham said: "It was a tough swim, I would have loved to get second on that. But I'm happy with the PB and the team has been amazing."
Blythe Kinsman (Mount Kelly) took fourth place in the women's 100m backstroke.
In more 200m breaststroke success for Team England, Sienna Robinson (City of Sheffield) won silver on the women's side with Hannah Bowley (Repton) in fourth.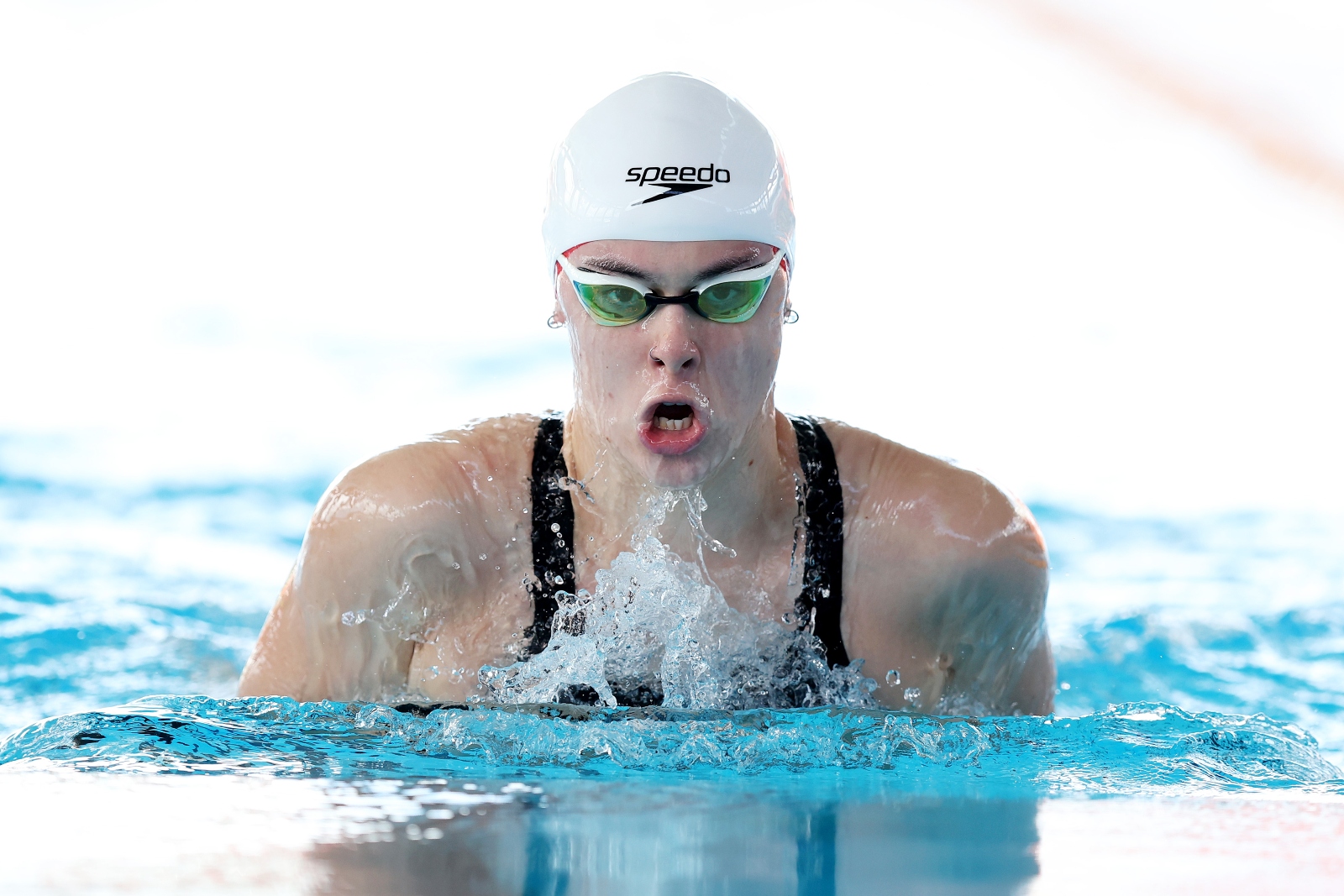 Robinson said: "It was good. It was a lot better than the heats, I felt a lot more controlled. I'm happy with the time but happier with how I swam the race in a new environment."

In an ever-gruelling men's 1500m freestyle final that went right down to the wire, England's Reece Grady (Stockport Metro) emerged with silver and Harry Wynne-Jones (City of Milton Keynes) fourth place.
15 minutes of racing came down to less than a second with Grady touching the wall in a personal best clocking of 15:31.22, just 0.42 behind Tyler Melbourne-Smith of Wales.
Grady said: "I knew Tyler would have a strong finish and I'm really happy to come away with silver."
Swimming finals continue at Trinidad's National Aquatics Centre on Monday night (starting 18:00 local, 23:00 UK) with the programme featuring its first relay event, the men's 4x200m freestyle.
Elsewhere on Sunday, England's Peter Soczewka and Rob Morgan booked their place in the beach volleyball knockout stages.
Flagbearer Soczewka and Morgan bounced back from a narrow loss to Canada to claim an impressive 2-0 (21-13, 21-15) victory over Rwanda.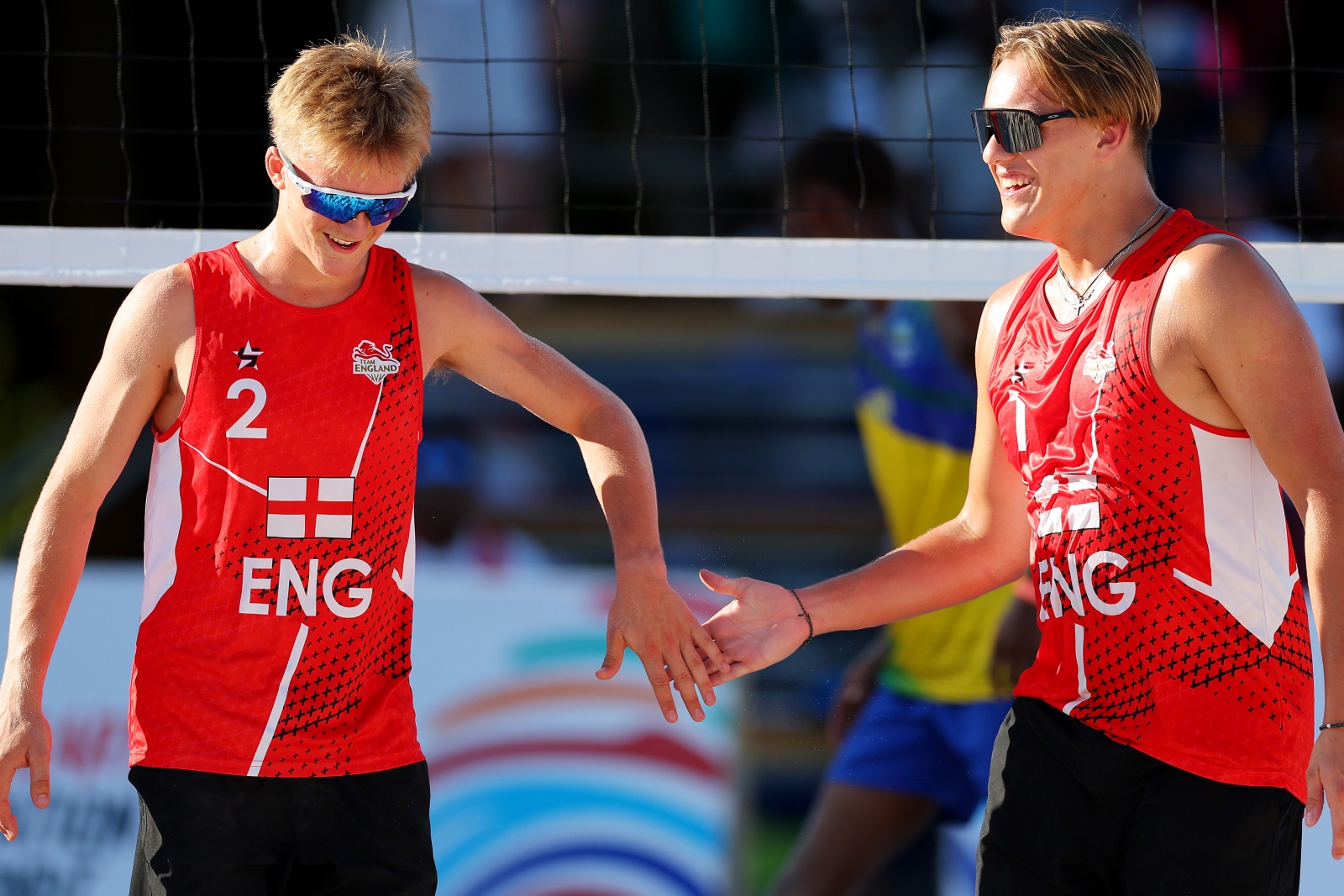 Soczewka said: "It was a good game. It was very hot though, quite hard to play in that heat and different to yesterday. It was a fun one and nice to play in front of a crowd cheering for us!"

Morgan added: "It was a nice way to finish the pool on a high, and we're looking forward to the knockout stages."
England advance to the round of 16 where they will face Sri Lanka (starting Monday 16:30 local, 21:30 UK)
On Monday at 14:00 local, the women's pairing of Alice Jagielska and Daisy Boardman take on the Cayman Islands in their own Round of 16 assignment.