Tom Bosworth added another silver medal to Team England's Gold Coast medal tally with a sensational performance in the 20km race final with a time of 1 hour 19 minutes and 38 seconds - setting a new British record and personal best in the process.
The 28 year old moved himself swiftly in to the lead on Currumbin beach, just after the half way point at 10km, following a break-away group of four which included Australia, Canada and Kenya.
Despite falling behind the front three for a short period, Bosworth showed great character to work his way back to the lead group for the rest of the race.
Then with just 5km left to race, Bosworth and his Australian counterpart Bird-Smith, were neck and neck all the way to the finish. As the finish approached and with metres left to race, the winner was impossible to call. But it was the Australian who surged away in the final few strides and pipped Bosworth to gold.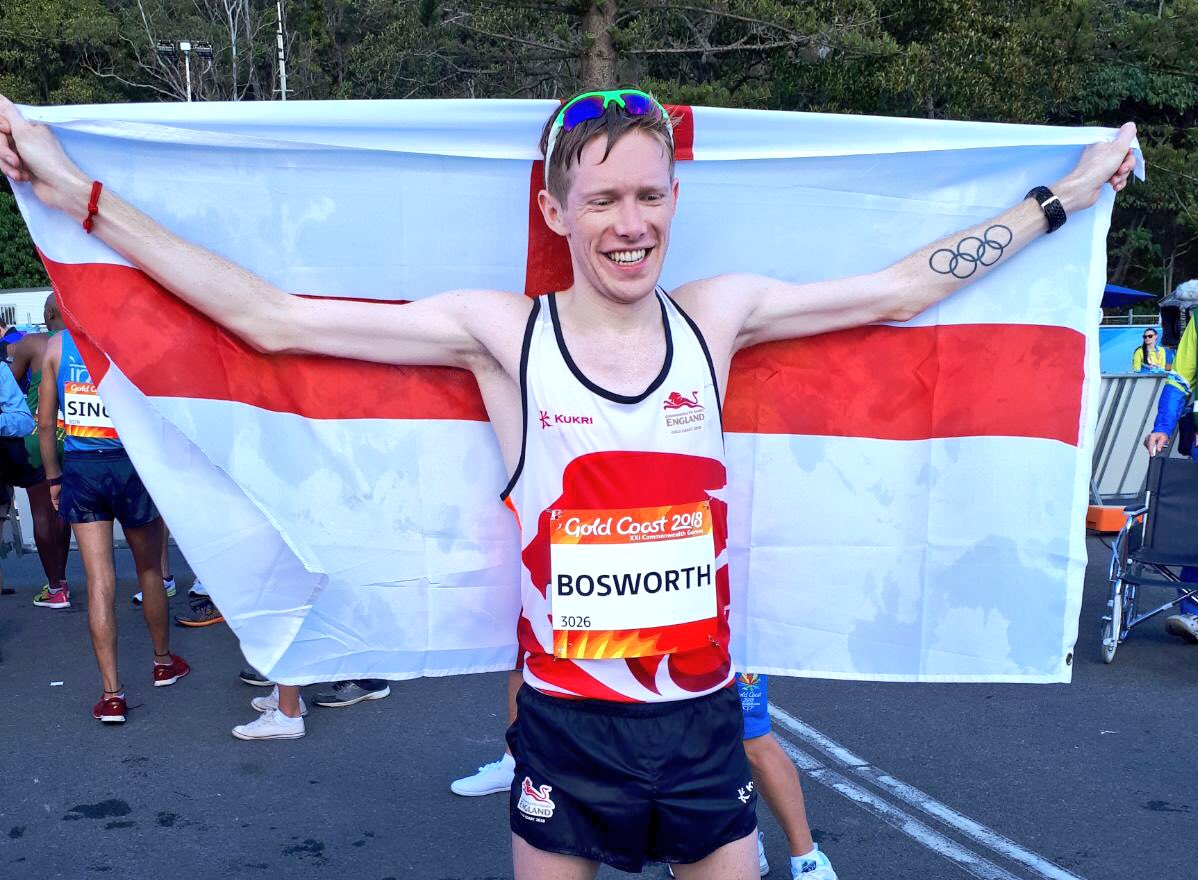 But speaking afterwards, Bosworth was clearly delighted to win a silver medal, saying: "I'm so pleased with this medal and to be up there with Dane (Bird-Smith) – he's a really good mate so I really pleased for him. The noise was insane; the race was brilliant fun so it must have been a great moment for him. I certainly was for me.

"With 600m to go, I thought I had a good shout for the gold. But that's home crowd advantage; It lifted him and carried him towards the line. The adrenaline was incredible for me so I can't even imagine what it was like for him. It must have been amazing to win that.
"I didn't think it would be sub 1:20 but that is all thanks to my coach Andi Drake who has got me in the best shape for these Games. It is a national record but to get under 1:20 is just something else I have been targeting for a long time. I was testing the guys all the way around and they were testing me. We knew we would have to move over the last few kilometres.
"After getting disqualified while leading at the World Championships last year it was an incredibly emotional final lap for me. So to put that to bed and win the silver is just brilliant."
Meanwhile, Callum Wilkinson finished a very respectable 7th in the field. He said: "It was a great experience for me. The crowd were brilliant so it was the perfect atmosphere to compete in. The course was nice and compact which suited me. There were quite a few turns which meant you had to alter your pace but that was ok with me. I started well and was walking well just behind the lead pack.
I just had to be patient and I think that is what I am most proud of.7th and close to a PB; so I am very pleased. I'm the youngest athlete in the field by five years so I am beyond happy with the result. Give me four years and I'll be well up the pack and chasing for medals."