Darren Campbell's achievements in athletics deserve more attention than was given at the time of his career and should be more remembered now. After all, he was double Commonwealth champion; won silver and gold at successive Olympics; three golds and a silver at European Championships; and a silver and two bronzes in World Athletics Championships. As part of our celebration of Black History Month we take a look back at one of Team England's 'Heroes Through History'.
Darren Campbell MBE grew up in the 1970s amongst the poverty of one of Manchester's most notoriously gang-ridden neighbourhoods, Moss Side. Throughout his career Campbell has always referred to the motivational support and guidance he has received from this mother, Marva. Being raised in a single-parent household shaped much of his experiences in childhood and a near-miss of gang membership and a life of crime makes his athletic success all the more commendable.
Campbell recounts, in his recently released autobiography, a watershed moment in his life, when on the way to participate in a pub robbery at the age of 16, he was prevented from committing the crime, as his bike tire was punctured. Things escalated after the murder of his close friend in adolescence and his lucky escape from a knife attack, and it looked like his life may be heading in the wrong direction.
He acknowledges that as a young athlete he was 'notoriously low on self-control and emotionally impulsive', used humour as 'a psychological coping mechanism' to hide his low self-esteem.
Campbell's career was one typified by set-backs and great comebacks.
A disappointing baton drop in the Atlanta '96 Olympic Games, and an injury at Athens 2004 were acommpnaied by the loss of his 2002 European relay gold medal and his 2003 world silver medal, after his team-mate Dwain Chambers tested positive for the use of performance-enhancing drugs.
When he was at his lowest ebb, out of form through injury and separated from his wife, he was chosen as the flag bearer for 2002 Commonwealth games in his home city of Manchester. Campbell describes this honour as the culmination of a twenty year journey, where he'd:
"Overcome deprivation, discrimination and depression' and was now 'bestowed with the ultimate privilege in my hometown."
Having missed the majority of the events in 2001, Campbell went on to take bronze in the 200m, and he he anchored the team to gold in the 4 × 100 m relay beating Asafa Powell of Jamaica in a very tight photo finish.
The elation on Campbell's face was clear for all to see and can be seen in the picture we have used below.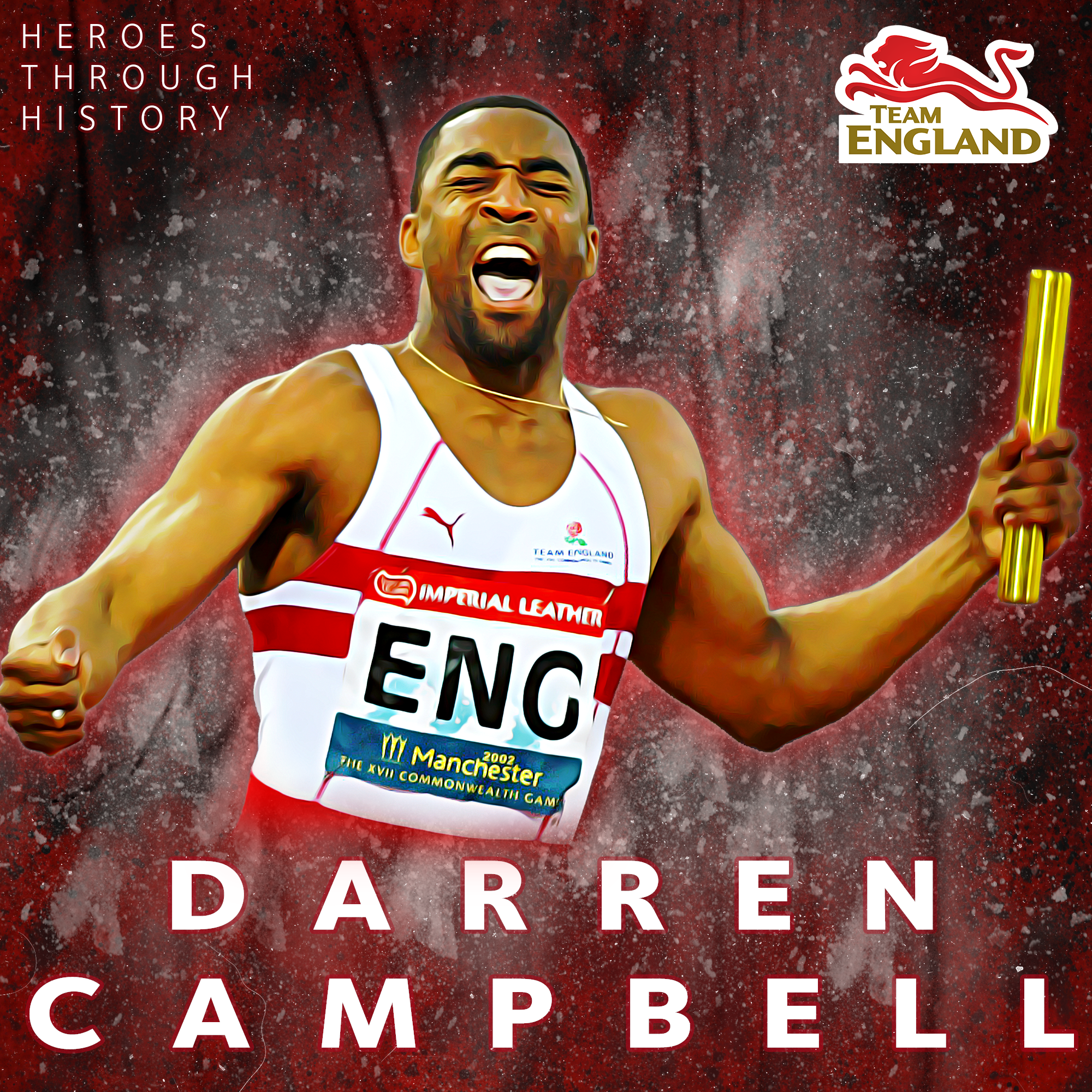 Campbell is without a doubt an inspirational athlete, who has increasingly encouraged young sports professionals to 'dream big'. In the present he is a motivational speaker on many topics and is a Sky Sports Ambassador.

In 2020 Campbell featured as one of the 31 inspirational athletes that Eurosport celebrated over Black History Month, and his motivation and consistent 'self-belief' always crops up as the unique qualities that helped his achieve greatness
despite his struggles. Darren Campbell was never 'the fastest man alive', but against great odds, he turned himself into possibly the greatest team athlete in British history.