Wolverhampton's Delicious Orie knew he wanted to win Commonwealth Games gold before he ever stepped foot in a boxing ring.
And within seven years, it was a case of mission accomplished for the 26-year-old as he stormed to success in front of a home crowd for Team England at Birmingham 2022, beating India's Sagar Ahlawat for the title of super-heavyweight champion.
The search for Commonwealth Games hosts in 2026 and 2030 remains ongoing but Orie is unequivocal about the importance of the event to young and aspiring athletes.
"I got into boxing pretty late, aged 18," he said.
"But before I even got into the ring I knew that I was going to do something and achieve something big.
"I always had my aspirations high and remember walking into the gym and telling me coach that I wanted to be the best.
"I wanted to be Commonwealth Games champion."
Orie is one of hundreds of athletes who acheived their Commonwealth Games dreams in Birmingham.
Upon hearing the news of the competition's unsure future this summer, the boxer took to social media platform X to express his hope for a host to be found soon.
He wrote: "Devastating news about the Commonwealth Games 2026 in Australia, really hope this can be resolved.
"Birmingham 2022 was a dream come true and I'm sure these Games are for so many."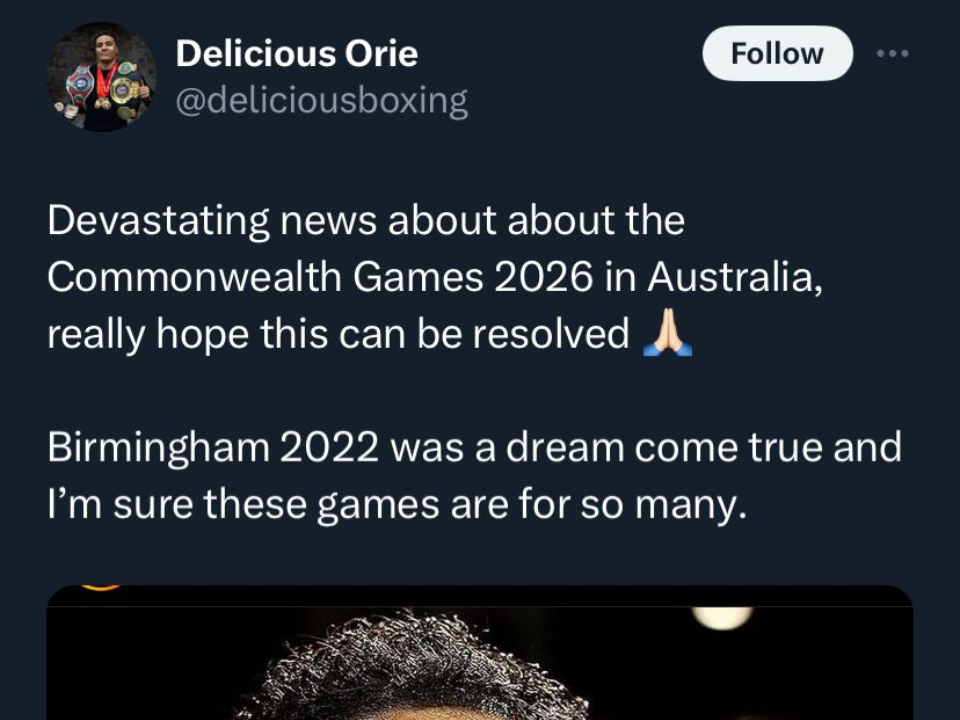 Orie cites the Commonwealth Games as the catalyst for what is yet to come on his journey to what he hopes will be boxing domination.

Birmingham was a pivotal moment in his career as he learnt how to manage the pressure of being a home favourite at a multi-sport event, feeling the support of a nation behind him.
And Orie has no plans to slow down any time soon, with Paris now on his mind.
"For me, the next thing is to win the gold at the Olympics," he said.
"I want to be in the same sentence as the likes of Tyson Fury and Anthony Joshua who are the best in the game.
"The Commonwealth Games has put me in the position where I have the experience now to get there.
"I have a lot more experience because of the Games as I was able to face guys who are good at world and international level that I hadn't before.
"I was also able to deal with the pressure that came with it, because no matter what anyone says, there is pressure at that level.
"The Games allowed me to learn from that pressure, handle it and achieve something great for my country.
"It's set me up in a strong position to carry on chasing my dreams."